Law Enforcement Torch Run

WHO WE ARE
The Law Enforcement Torch Run (LETR) is the largest public awareness vehicle and grass-roots fundraiser for Special Olympics. The LETR was started by law enforcement for law enforcement in Kansas in 1981 when a chief and a few of his officers ran the Special Olympics torch into the opening ceremonies of their local Summer Games.  In Nebraska the LETR started in 1985 when a group of law enforcement officers decided to run the Special Olympics torch across the state to Summer Games. Today the LETR has is a worldwide movement of dedicated law enforcement officers raising money and awareness for their local Special Olympics programs and athletes.
WHAT WE DO
The LETR for Special Olympics Nebraska partners law enforcement with the Special Olympics community statewide to champion for acceptance and inclusion for people with intellectual disabilities. Over the years the LETR in Nebraska has evolved from a run across the state to a variety of innovative fundraising platforms to include Polar Plunges, Tip-A-Cops, T-shirt sales, Cops on Rooftops and more.   Worldwide the LETR raises nearly $60 million and in Nebraska we have reached the threshold of raising over $335,000.
WHY WE DO IT
Individuals in law enforcement often begin their careers with the goal of helping others and their communities.  Years of dealing with crime, however, can wear on them and leaving them to question if they are making a difference.  By partnering with Special Olympics, the men and women of law enforcement are satisfied in knowing they are in fact making a difference and helping to make their community a better place.  Through the partnership of law enforcement and Special Olympics those involved in the LETR see firsthand the opportunities provided to the athletes that help to empower them in their schools and communities and transform their lives.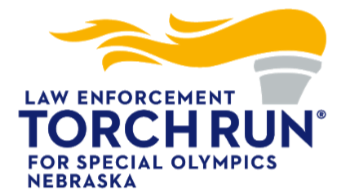 ---
EVENTS
---
BEYOND EVENTS
---
For questions about the Law Enforcement Torch Run, contact us.