Torch Run

The Law Enforcement Torch Run for Special Olympics Nebraska (LETR) will be hosting Torch Run events throughout the state May 9th-18th.  These Torch Runs bring together local law enforcement, Special Olympics Nebraska (SONE) athletes, supporters and volunteers to run the SONE "Flame of Hope" through their community to raise money and awareness for SONE and the organization's 6,000 athletes who have an intellectual disability.
The Torch Run culminates at the SONE State Summer Games.  The final Torch Run will take place during Opening Ceremonies of the Summer Games, on the evening of Thursday, May 19th.
The cost to register is $25 and includes a 2022 LETR t-shirt. To be guaranteed a t-shirt, you must register for the run by April 28th (one t-shirt per registrant).  The t-shirt comes in youth and adult sizes, is light grey & a soft cotton fabric.  It will be mailed to the address used to register.
You can register to run in your community through our fundraising site using the Online Registration link below or by filling out our filling out our Torch Run Waiver below and turning it in to your run coordinator. 
If you wish to only purchase a t-shirt  and not run, you can do so using the registration link below as well. 
You must sign this waiver if you did not register for the run online. Please either turn in this form to your run coordinator or email to torchrun@sone.org
COMMUNITY TORCH RUN SCHEDULE
GRAND ISLAND
Date:  May 12th
Start Time:  4:30p.m.
Event:   Starting at Westridge Middle school and running to George Park.
Contact: Melissa Kier
KEARNEY
Date:  May 12th
Start Time:  4:30p.m.
Event:  Start at the corner of 16th Street and Central Avenue
Contact: Rob Taillon
YORK
Date:  May 14th 
Registration:  9:30a.m.
Start Time:  10:00a.m.
Event:  Runners will meet at East Hill park at 9:30a.m. for a 5K.  Water and snacks will be provided, and all walkers, joggers and runners are welcome.  
Contact:  Erika Garcia
MCCOOK
Date:  May 16th
Start:  6:00p.m.
Event:  Run will start and end at Crossfit McCook.  The run will be about 1 mile. 
Contact:  Jackie Thelen
SCOTTSBLUFF/GERING
Date:  May 16th
Registration:  5:00 – 5:45p.m.
Start:  5:45p.m.
Event:  Torch Run will start at the Scotts Bluff National Monument parking lot.  On-site registration will take place in the Monument parking lot.  The run will conclude at the Legion Park.  If there is inclement weather, the race will end at the Gering Fire Dept.  
Contact:  Jason Rogers
LINCOLN
Date: May 17th
Start:  12:00p.m.
Event:  Run begins at noon at 14th & Vine, followed by a ceremony beginning at 12:30p.m. on the steps of the Lincoln Police Department headquarters.
Contact:  Lynette Russell
NORTH PLATTE
Date: May 17th
Start:  4:00p.m.
Event:  Start at Cody Park in North Platte
Contact:  Nathan Veal
 AURORA
Date: May 18th
Start:  5:30p.m.
Event:  Start at the county courthouse, west to 8th Street and north to Cole Park
Contact:  Jeromy McCoy
BEATRICE
Date: May 18th
Registration:  5:00p.m.
Start:  5:30p.m.
Event: Run begins at 19th & HWY 136 (Court Street) and ends at 5th Street & HWY 136.
Contact: Natasha Nesbitt or Toni Rieman at 402.520.8664
OMAHA
Date: May 19th 
Registration:  6:00 – 6:45p.m.
Start:  7:00p.m. 
Event: Omaha will host a Run/Walk. Runners/walkers will meet at meet at the Rasmussen Fitness and Sports Center on Creighton's campus and end at the Ryan Athletic Center/D.J. Sokol Arena at Creighton. The run will be just over 3 miles. The walk will be 1.5 mile through Creighton's campus and kids under 12 walk for free. Runners/walkers may begin to pick up t-shirts from 6-6:45p.m.  
After the Run:  The Special Olympics Nebraska Opening Ceremonies will be held at the DJ Sokol auditorium at 7:00p.m.  All runners are asked to please come and run the torch into Opening Ceremonies.  It estimated that the torch will enter the auditorium around 8:00p.m.
Contact:  Marcus Taylor
---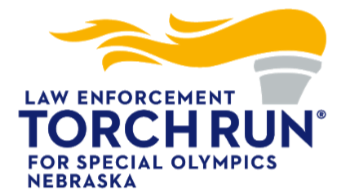 ---