Events
Breakfast of Champions 2019
Breakfast of Champions 2019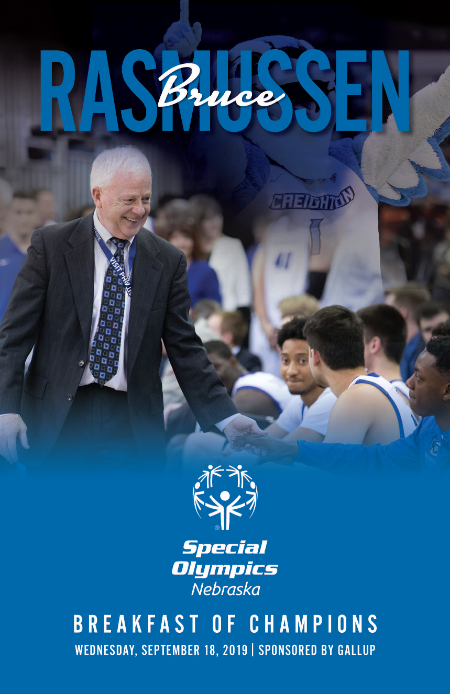 Special Olympics Nebraska is pleased to announce this year's Breakfast of Champions Speaker is Director of Athletics for Creighton University, Bruce Rasmussen!
Special Olympics Nebraska will present the Champion of Greatness Award to the Douglas County Board of Commissioners and Special Olympics Nebraska athlete Haley Waggoner will speak.
 Wednesday, September 18, 2019 
 7:30am Embassy Suites La Vista
Please reserve your table by September 11, 2019.
-------------------------
Table Levels
Gold: $5,000 (Table of 10 and autographed basketball - $4,800 Tax Deductible)
Silver: $2,500 (Table of 10 and autographed Bluejay souvenir - $2,322 Tax Deductible)
Bronze: $1,500 (Table of 10 - $1,325 Tax Deductible)
Single Tickets: $150 ($142.50 Tax Deductible)
Please RSVP by September 11, 2019
Should you have any questions about your reservation or the event, please email amancuso@sone.org or call 402.331.5545 ext. 13.
-------------------------
Keynote Speaker: Bruce Rasmussen
DIRECTOR OF ATHLETICS, CREIGHTON UNIVERSITY
Bruce Rasmussen enters his 26th year as McCormick Endowed Athletic Director, and 40th overall at Creighton University. During Rasmussen's tenure, Creighton has risen to prominence with its success on and off the field, impressive facilities and record-breaking fundraising efforts.
Rasmussen accepted the associate athletics director position in 1992 after a 12-year run as the winningest coach in Creighton women's basketball history (196-147), that culminated in the program's historic 1991-92 season. Since assuming the role of director of athletics in 1994, Creighton has won 40 regular-season and 42 conference tournament titles, which have helped lead to 86 postseason appearances.
Rasmussen's efforts continue to be recognized on a national level. In June of 2019, he became Division I's first four-time recipient of the Under Armour Athletic Director of the Year Award. Rasmussen was also honored by the Division I-AAA Athletic Directors Association with the 2019 Gary Cunningham Lifetime Achievement Award at the annual NACDA Convention. In 2008, he was inducted into the Omaha Sports Hall of Fame. Under Rasmussen's leadership, Creighton has built new athletic facilities in virtually every sport. In 2018, Rasmussen wrapped up a five-year term on the highly esteemed NCAA Division I Men's Basketball Selection Committee, serving as chairman in his final year. A member of the College World Series of Omaha, Inc., Executive Committee, Rasmussen continues to play a vital role in Creighton and the city of Omaha remaining as host of the College World Series. 
Creighton's reputation as one of the nation's top academic institutions is reflected in the success the Bluejay student-athletes have had in the classroom during Rasmussen's service as athletics director, earning conference and national awards for their academic success. Bluejay student-athletes have owned GPAs of 3.30 or above in 26 straight semesters entering the fall of 2019.