Athlete Leadership Program

WHAT WE DO
Athlete Leadership empowers athletes to develop leadership skills and utilize their voices and abilities to undertake meaningful leadership roles, influence change in the Special Olympics movement and create inclusive communities around the world. As athletes gain the confidence that comes with achievement, they feel empowered and ready to take on new challenges to make use of all their abilities. 
---
HOW WE DO IT
Special Olympics Nebraska Athlete Leadership partners with the Gallup Organization to train and mentor athletes to develop their leadership and advocacy skills. During Athlete Leadership training athletes discover their strengths using the Gallup Clifton Strengths Finder.  The athletes then focus on how they can utilize these strengths to make a positive impact on their team, at their school and in their community.  By sharing their stories, our athletes begin to break down barriers and misconceptions about people with intellectual disabilities. 

---
GET INVOLVED
REGISTER AN ATHLETE

Know an athlete that would be a great candidate for our Athlete Leadership Program? Sign them up!

BE AN ATHLETE MENTOR

We will pair you with an athlete going through the program. You will help them learn about their strengths, gain confidence and find their voice.

MEET OUR ATHLETE LEADERS

Check out our list of Athlete Leaders who have gone through our program. You can even request an Athlete Speaker!
---
ATHLETE LEADERSHIP COUNCIL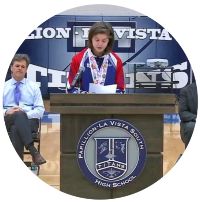 The Athlete Leadership Council (ALC) is made up of athlete representatives from all four regions across Nebraska.  The council has monthly meetings and facilitates a statewide Athlete Leadership meeting annually during Fall Games.  Athletes are empowered to voice their opinions and make recommendations on improvements to the program. The meetings provide a forum to report changes in program to their peers, address important issues, and gain leadership and training experience.
---
---
ATHLETE LEADERSHIP LEADS TO OPPORTUNITIES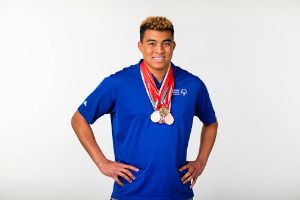 Athlete Ambassador Isiah Pope shoots a commercial promoting Summer Games, our largest annual competition.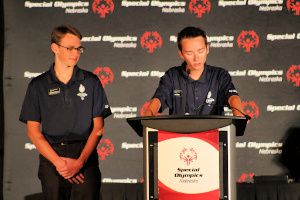 Unified pair Nathan Franz and Jared Gies speak about how Unified initiatives have transformed their lives and built a lifelong friendship at the annual Breakfast of Champions.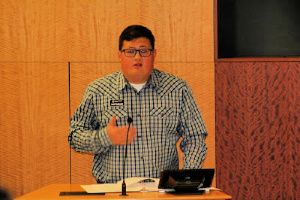 Athlete Ambassador Josh Pachunka shares his story at the Athlete Leadership Program Graduation Ceremony.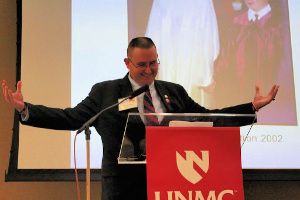 Athlete Ambassador Jason Geischen shows his audience;  "This is what awesome looks like!" at our Health Symposium.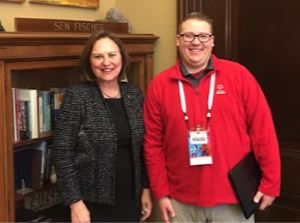 Athlete Ambassador Garrett Stipke traveled to Washington DC to meet with legislators to advocate for equal rights for him and his peers with intellectual disabilities.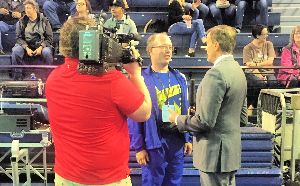 Athlete Mark Travis gets interviewed for a news segment about his recent induction into the Special Olympics Nebraska Athlete Hall of Fame.