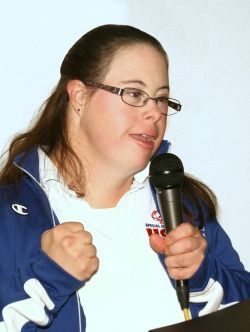 The Summer Heroes Reception was held at the Sokol arena from 5:30 - 6:45 pm May 19th 2016. The food was so good and everything was very elegant. The desserts were also very good--I loved them! I had a chance to meet Cassadee Pope and give her some advice for if she ever wanted to be a tennis player to never give up.
Later, Carolyn Chamberlin, the CEO of Special Olympics Nebraska, spoke about a track and field event she experienced that was a relay. When a team passed the baton to the last runner, she was injured. The team's mission was to finish the race and they did. What Carolyn saw and what she felt made her certain she wanted to be a big part of Special Olympics Nebraska. Carolyn knew Special Olympics impacted her life and many others' as well. She wanted a job with Special Olympics Nebraska so she can change lives, too.
I spoke at the reception as well. I am an athlete ambassador and correspondent, but I was really nervous because this speech was a big deal. It was Summer Games and I kept thinking of Kerri Orozco. I was really happy to see my brother and his friend in the crowd as I gave my speech. This was their first time seeing me give my speech and having my family there felt right. Having the Special Olympic Nebraska staff there was icing on a very good cake.
As I watched the athletes parade in, it was very memorable and inspirational to me. It brought me back to the memories of doing Summer Games and the competitions with other athletes. It was a lot of fun. The Summer Games is always an exciting time of year and I wish I was competing this year.
Cassadee Pope brought down the house and was very inspirational. It was a blast! The Summer Games mean carrying on Kerri's legacy with the flame of hope for years to come. Those simple words: "Sharing, Caring and Joy", we can see every day in every kid and adult. That is why Special Olympics Nebraska staff members enjoy their jobs. Because of us! After they leave for the day they know that they did something that has made us who we are. Thank you to the staff of Special Olympics Nebraska!
Inspirations by Melissa Giersch