As you know, Nebraska has seen a steady spike of cases throughout the state. Special Olympics Nebraska will continue to consider guidelines from our state, as well as from our headquarters, as we determine what return to play will look like for 2021 competitions. As of November 16th we have moved back to Phase 0, which means teams are not permitted to gather for any reason. We we will re-evaluate at the beginning of 2021.
We will keep teams up-to-date on how this will effect the modified State Traditional Bowling competition that was set to begin mid-February. We can't wait to see you all again soon, when it is safe. Until then, remain safe, healthy and wear a mask. Please stay up to date and active by following our social pages and checking out our website!
---
We have made the decision, after a directive from our headquarters, to extend our cancellations of all team activities and competitions through June 30. We will continue to listen to our Governor, state health officials, and our headquarters for future decisions. Stay tuned for more updates in June about competitions beyond July 1, including Fall Games.
We miss our athletes and can't wait to see you all on the field again, when it is safe. Until then, please stay up do date and active by following our social pages and  website!
---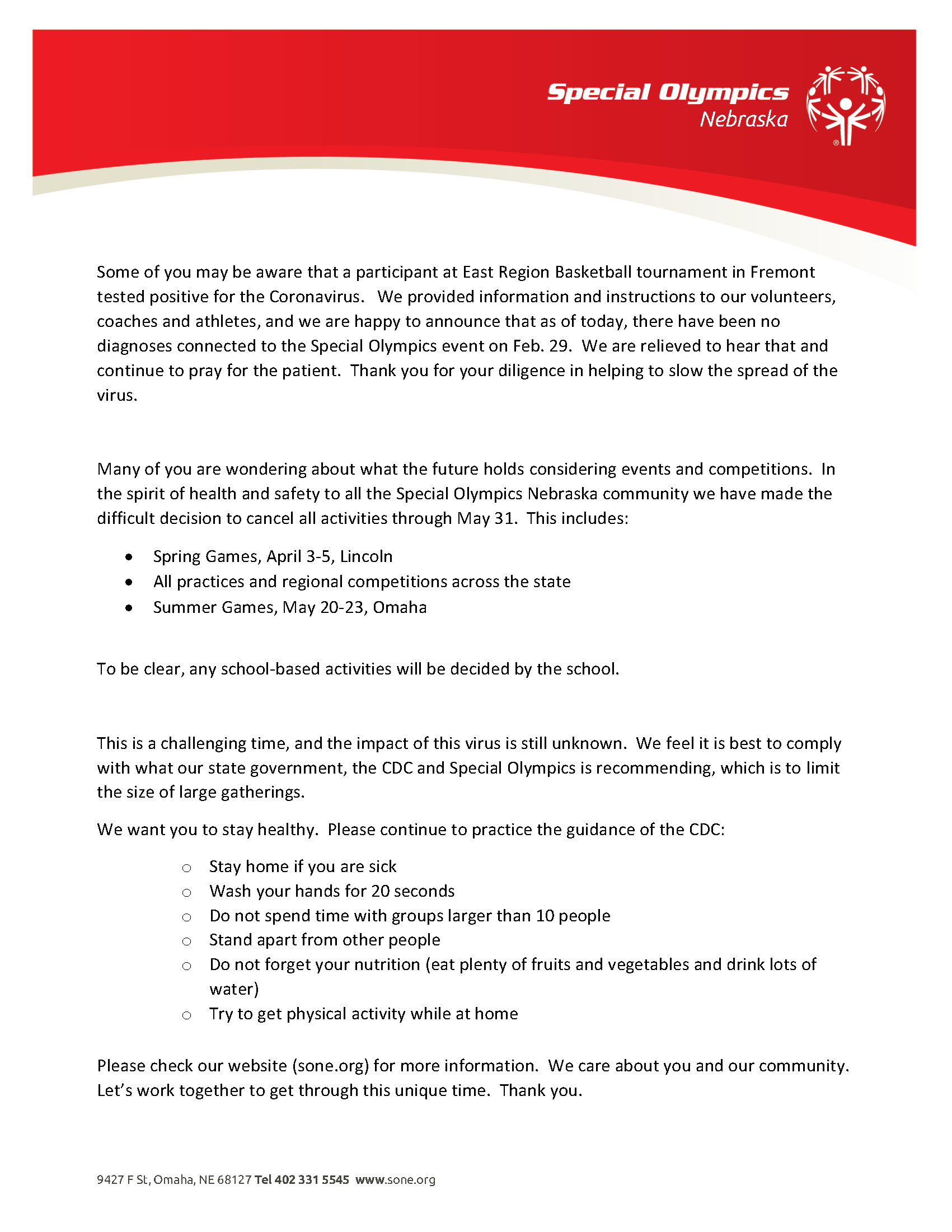 ---
Information on COVID-19
Special Olympics Nebraska along with all other Special Olympics programs worldwide received direction from Special Olympics International to suspend all activities involving our athletes due to the spread of the COVID-19 virus. At this time, all Special Olympics Nebraska events and activities statewide should be canceled through the end of March. This would include practices and any get togethers involving our athletes. Safety of our participants is paramount to what we do, and we want to ensure we are doing what we can to prevent the spread of the virus within our communities.
We appreciate your understanding. We will monitor the situation and work with our headquarters and local health officials as we evaluate events beyond March 31st. At this point our Spring Games is scheduled to take place on April 3rd, 4th, and 5th in Lincoln. If anything were to change regarding this event, we will provide communication as soon as we can.
---
REQUEST FROM DDS
The Department of Health and Human Services has requested that everybody who participated in the East Region Basketball  event on Feb. 29 complete the RedCap survey on the NE DHHS Site or call THEIR local department. We have included below the link for the NE DHHS survey and a link for local health department contacts including a map for people to reference to know who their health department that serves their county.
RedCap: http://dhhs.ne.gov/Pages/Coronavirus.aspx
Health Depts:
https://www.wfsb.com/news/agency-lists-cleaning-products-that-combat-coronavirus/article_59c3d37e-5ccf-11ea-8e5c-13059e5b1e1d.html
http://dhhs.ne.gov/CHPM%20Maps/NE_Health_Dept_Map_Dec_2016.pdf
If you are having trouble or any issues, please contact Allison Dye, the Emergency Response Coordinator for Three Rivers Public Health Department at allisond@3rphd.org or 402-727-5396, ext. 114.
---
Out of an abundance of caution and as a result of initial contact investigation results of the first Nebraskan with a presumptive positive case of Coronavirus (COVID-19), The Three Rivers Public Health Department, Douglas County Health Department, Lincoln-Lancaster County Health Department, and other local health departments, and the Nebraska Department of Health and Human Services (DHHS) are investigating possible exposure to a presumptive positive case of coronavirus disease 2019. 
State and local health officials are requesting for basketball players, coaches and team staff who participated in the Special Olympics Nebraska event at the Fremont Family YMCA on February 29, 2020 from 8:30 a.m. to 4:00 p.m. to self-quarantine to limit exposure to others and monitor themselves for development of COVID-19 symptoms as listed below until Saturday, March 14, 2020. The Fremont Family YMCA is located at 810 N Lincoln Ave, Fremont, NE 68025.
We're asking for basketball players, coaches, and team staff who participated this event on February 29, 2020 to either self-report to the Nebraska public health online system at http://dhhs.ne.gov/Pages/Coronavirus.aspx or if you are symptomatic or have concerns, to consider contacting their local health department or health provider for guidance and next steps.
Informing the local health department is the most direct way to ensure timely medical care if needed and to minimize the potential risk to others.  A map of Nebraska's local health departments can be found here at http://dhhs.ne.gov/CHPM%20Maps/NE_Health_Dept_Map_Dec_2016.pdf .
As a result of this information and to continue to keep the health and safety of the athletes of Special Olympics Nebraska our top priority, the following events are cancelled:
o   UNL Track and Field clinic, March 8
o   UNL Unified Recreational Basketball Game, March 10 & March 17
o   Q Street Classic basketball game, March 13
o   Level A Swimming, March 14,
o   East Region Aquatics, March 21
o   East Central Region Aquatics, March 21
In addition to the above listed events, we are recommending all delegations in the East and East Central region suspend all Special Olympics activities (practices, get togethers,  competitions) until further notice.
We will continue to monitor the situation daily and are working closely with the state health leaders as well as Special Olympics International headquarters in Washington DC and will keep you posted as we learn more.
We appreciate everyone's understanding and cooperation and know you share our desire to keep the health and safety of those in our movement the priority.
INFORMATION:
Symptoms of COVID-19 can appear 2-14 days after exposure to the virus. The most common symptoms reported are:
·       Fever of greater than 100.4F
·       Cough
·       Shortness of breath or difficult breathing
Spectators of the Special Olympics events and other people who were in the YMCA facility that same day are at much lower risk than the direct participants. Non-participating individuals can self-monitor and contact a local health department or their health care provider if they develop symptoms. 
Evidence to date suggests that this virus doesn't stay in the environment for an extended period of time. Without ongoing contamination from ill people, the facility where the event was held isn't a risk for ongoing exposure.  It is recommended to avoid large group gatherings and events to practice social distancing. If you develop symptoms, please contact Three Rivers Public Health Department at 402-727-5396.  "Our dedicated team is ready to guide our communities that we serve, our response plans are robust and we are prepared to provide education and guidance," said Three Rivers Public Health Department, Executive Director, Terra Uhing.
Currently there is not a vaccine or an antiviral (medicine) to protect against COVID-19. Most people with mild illness will recover on their own by drinking plenty of fluids, resting, and taking pain and fever reducing medications to relieve symptoms while isolating to prevent spread to others.  However, people can develop pneumonia and require medical care or hospitalization.
People can help protect themselves from COVID-19 and other respiratory infections by: 
·       Avoiding close contact with sick people and stay home if you are sick.
·       Washing hands often with soap and water for at least 20 seconds. If soap and water aren't available, use an alcohol-based sanitizer.
·       Avoiding touching your eyes, nose, and mouth with unwashed hands.
·       Covering your nose and mouth with a tissue when you cough or sneeze then throw the tissue in the trash.
·       Cleaning and disinfecting frequently touched objects and surfaces.
State and local public health officials continue to take action to prevent the spread of disease and protect the health of Nebraskans including:
·       Sharing the latest guidance and information with local health departments, hospitals, health care providers, first responders and local and state labs through our extensive Health Alert Network to ensure a well-coordinated response in Nebraska. DHHS Health Alert Network - http://dhhs.ne.gov/Pages/Health-Alert-Network.aspx.
·       Assessing our health care system's readiness to identify, monitor and treat patients with coronavirus disease 2019.
·       Engaging in active and ongoing communication with the Centers for Disease Control and Prevention and other state and federal partners as part of the overall national response to this emerging public health threat.
·       Reviewing and enhancing response plans to be ready for the detection of COVID-19 in our state.
·       Facilitating confirmatory testing, isolation and monitoring of Nebraskans experiencing symptoms to identify cases as soon as possible.
·       Updating dhhs.ne.gov/coronavirus with the latest information and resources.
·       With our local health department partners, we have a system in place to track and monitor people who have contact with a confirmed case in an effort to immediately detect secondary cases and minimize the potential for ongoing, undetected, person-to-person transmission.
Nebraskans are also encouraged to review their family preparedness plans in the event that coronavirus disease 2019 continues to spread in the United States. More resources will be available soon at http://www.dhhs.ne.gov/coronavirus.
We will continue to update Nebraskans through our website http://www.dhhs.ne.gov/coronavirus and on Facebook and Twitter as we have new information. The CDC's website is also a good resource for COVID-19 information - https://www.cdc.gov/covid19.
Follow DHHS on Facebook and Twitter to learn more about the health of Nebraskans.