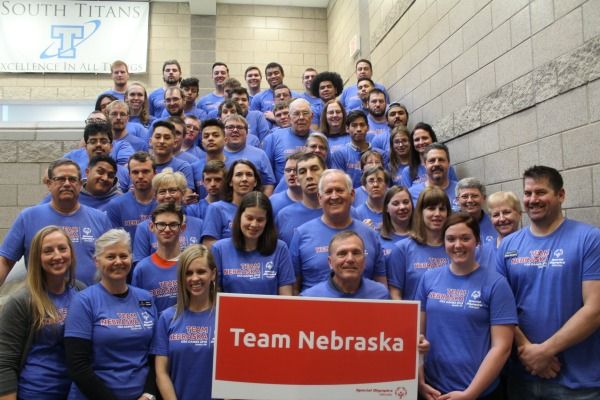 FOR IMMEDIATE RELEASE
December 21, 2017
Special Olympics Nebraska athletes, coaches, and law enforcement prepare to depart for the Special Olympics USA Games in the Seattle, July 2018.
Omaha, Nebraska – Special Olympics Nebraska is honored to announce our delegation of athletes competing in the 2018 Special Olympics USA Games in Seattle. The Nebraska delegation is made up of 31 athletes, 8 unified partners, 2 Youth Leaders, and 13 coaches.
Team Nebraska includes:
Bowling
Marge Volpert (Coach), Papillion/LaVista
McKenna Stec, Omaha
Nicole Eikmeier, Omaha
Track
Rob Hampton (Coach), North Platte
Brent Phillips, Scottsbluff
Dexter Drbal, Lincoln
Rachel Mulligan, Papillion
Erin Morgan, Bellevue
Powerlifting
Barb Rolf (Coach), West Point
Wyatt Bader, Palmer
Swimming
Dennis Drbal (Coach), Lincoln
Brielle Havermann, Omaha
Katherine Philpot, Kearney
Joshua Nelson, Ames
Shawn Castonguay, Omaha
Golf
Phil Wolfe (Coach), Lincoln
John Moen (Unified Partner), Bellevue
Brent Apo-Hruska, Bellevue
Bocce
Luana Duennerman (Coach), Lincoln
Peggy Dixon, North Platte
Nicole Hampton (Unified Partner), North Platte
Tennis
Nancy Samson (Coach), Omaha
Wyatt Spalding, Fremont
Haley Waggoner, Lincoln
Soccer
Marla Grier (Coach), South Sioux City
Bernardo Nuno (Coach), Sioux City, IA
Jose Uribe (Coach), South Sioux City
Andrew Gomez (Unified Partner), South Sioux City
Ricardo Rodriguez, South Sioux City
Erick Galvan (Unified Partner), David City
Aldo Bravo (Unified Partner), South Sioux City
Eryc Bravo, South Sioux City
David Montes (Unified Partner), David City
Irineo Edson (Unified Partner), South Sioux City
Seth Luesebrink, South Sioux City
Brian Gomez, South Sioux City
Damian Rodriguez, South Sioux City
Devon Conley, South Sioux City
Adrian Ramos (Unified Partner), South Sioux City
Flag Football
Joe Volpert (Coach), Papillion
Bill Campion (Coach), Beatrice
Lenard Hall (Coach), Fremont
Kendrick Luebbert, Fremont
Evan Devore, Fremont
Kenneth Farrow, Minden
Jarvis Green, Upland
Matt Hoffman, Omaha
Greg Campion, Beatrice
Isiah Pope, Papillion
Thomas Cooperman, Bellevue
Tyler Reiman, Beatrice
Youth Leaders
Jared Gies, North Platte
Nathan Franz, North Platte
About Special Olympics USA Games
Now in its fourth running, the next Special Olympics USA Games will take place in Seattle in July 2018. Past hosts were Ames, IA in 2006, Lincoln, NE in 2010, and Lawrenceville, New Jersey in 2014. From July 1-6, 2018 more than 3,000 athletes from all 50 states and the District of Columbia will descend upon Seattle and the surrounding region. Fourteen sports will be offered including athletics (track and field), basketball, bocce, bowling, flag football, golf, gymnastics, powerlifting, soccer, softball, stand up paddle boarding, swimming, tennis, and volleyball. The 2018 USA Games are expected to host 10,000 volunteers, 10,000 family members and friends and 70,000 spectators.
In addition to showcasing the awe-inspiring abilities of thousands of athletes with intellectual disabilities, the 2018 USA Games in Seattle will model the ideals of inclusion and celebrate the 50th anniversary of the Special Olympics movement. The 2018 USA Games will serve as a catalyst for the City of Inclusion initiative. The 2018 USA Games will also highlight Special Olympics' work in sport, education, health and community-building.
Tagline
Rise With Us
Hashtag
#RiseWithUs
#2018USAGames
Media Contact
Nate Parks
Special Olympics Nebraska
nparks@sone.org
402.331.5545 ext 16
For more information:
www.specialolympicsUSAGames.org
www.sone.org
Twitter: SONebraska
Facebook: Special Olympics Nebraska
Instagram: specialolympicsnebraska
Special Olympics Nebraska is a 501 (c) (3) nonprofit organization, which was founded in 1972. The mission of Special Olympics Nebraska mission is to provide year-round sports training and athletic competition in a variety of Olympic-type sports for children and adults with intellectual disabilities, giving them continuing opportunities to develop physical fitness, demonstrate courage, experience joy, and participate in a sharing of gifts, skills, and friendships with their families, and other Special Olympics athletes and the community.