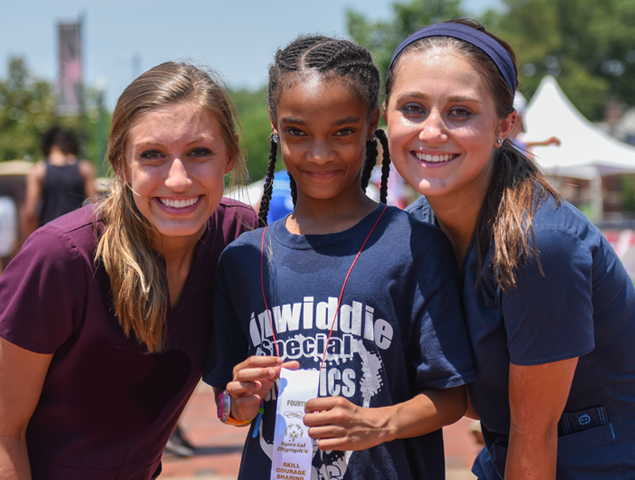 Special Olympics Champion Luncheon
The 2017 Champions Together luncheon was held on November 8th at the Happy Hollow Country Club from noon to 1pm. As our guest were coming in us athletes were greeting them and striking up conversations and high fiving everyone. John Knicely welcomed everyone here at the 2017 Special Olympics Champions Together luncheon. As the drum line of young adults introduced us athletes to our donors and guest with loud banging and drumming getting everyone up and out of their seats as we the athletes started marching in with our heads up high with pride, proudness and self respect and high fives all around. Man it feels good to be recognized in front of everyone. It felt like we were making a statement being Unified as a team. Beth Nietzel did the Special Olympic oath and she did an amazing job following her was Christian Beard for the invocation and did such amazing job as well.
Then we sat down and ate and were striking up conversations around our tables. After a while the president and CEO of Special Olympics Carolyn Chamberlin spoke about our mission and vision and staying Unified and as I'm sitting and hearing Carolyn speak she didn't look nervous to me and in fact she looked amazing and poised. The video always leaves me inspired every time. Will Thornton's speech was very inspirational. Mike Mulligan's speech hit real close to home for me talking about his pride and joy his co- Pilot his daughter Rachel and how independent she is and as I'm hearing all of this it made feel something inside as well. Mike Messerole spoke about being an game changer and being Unified. We as the athletes can play with our families and siblings and friends and it's more fun that way.
Let me win, but if I cannot win, let me be brave in the attempt. The Special Olympic Oath. Thank you guest and donors for all your support with Special Olympics none of this we couldn't do without all of you are all are truly amazing thanks again.
Inspirations By: Melissa Giersch Athlete Messenger