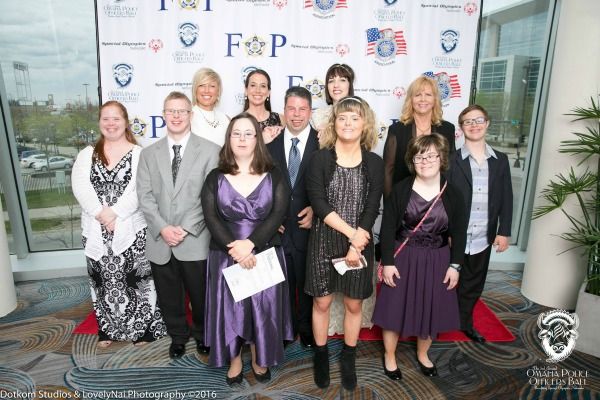 Saturday, April 16th the 3rd annual Policeman's Ball was held at the Hilton hotel in Omaha. The Special Olympic athletes who attended this elegant and fancy event this year were JD Mossberg, Michael Boehmer, Kristina Davey, Grace Greenwood, Cassie Lacey, Joey Drawl last but not least Melissa Giersch.
We as the Special Olympics athletes ambassadors got a chance to meet and greet some of the guests and engage in conversations as they were lined up getting their picture taken. The police officer and their guests we're very well dressed and very professional looking, I say everyone looked amazing. I thought it was a once in lifetime Cinderella moment going to a ball that's what I felt like to me, and having Special Olympics Nebraska staff was icing on a cake it felt real amazing to me.
Katie Kellar, the Director of Development from Special Olympics, presented the Law Enforcement Champion Award to our fallen champion Officer Kerrie Orozco. Kerrie's family accepted the award on her behalf. Kerrie exemplified what it meant to be an Guardian of the Flame for Special Olympics Nebraska athletes through the events like the police ball. JD Mossberg briefly addressed the crowd about how much Kerrie Orozco meant to the athletes of Special Olympics Nebraska.
We are truly honored by our long standing partnership with Omaha Police Department and look forward to continuing Kerrie's legacy in everything we do. Officer Anna Urban and SGT. Marcus Taylor both encouraged those who attended to get involved the upcoming events. They asked officers to get involved with security at the Summer Games and in awarding medals at the Omaha Sports Classic and Fellowship Games, both are Unified events coordinate by OPS. All the proceeds from the Omaha police ball will benefit Special Olympics Nebraska.
When Katie Kellar got up on stage and did her thing she did an amazing job and well represented Special Olympics Nebraska. She didn't look nervous at all and when she looked at me she knew she had it in the bag.
It always feels good to be an athlete it means we can be anything we want to be and that we have a sense of accomplishments that we are proud of. Being an athlete means the world is our oyster and we athletes are still discovering more and more talents. A message from me to my fellow athletes "remember do your best push to your limits and tell yourself you can do it, it's not impossible just remember you can do it no matter what. Never give up."