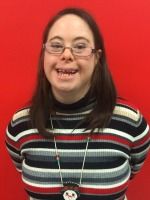 The holiday party was a lot of fun. There were a lot of people, and the food was really good. My favorite were the chocolate desserts. Carolyn Chamberlain, Special Olympics Nebraska CEO, opened up the holiday party by speaking about Special Olympics, the history of it, and expanding our program.
Jason Gieschen, our global messenger, spoke about his experience with Special Olympics, and what Special Olympics meant to him. Jason spoke about how his intellectual disability is a result of child abuse as a baby. It made it hard to relate to his story at first because I've never been abused or adopted. He compared himself to the Charlie Brown Christmas tree, and how his new family saw potential in him. Jason's family enrolled him into Special Olympics, where he excelled. Jason's family and Special Olympics made him feel valuable. I remember when I did a track and field event in Portland, Oregon. I won second place. It's one of my earliest memories, and it still makes me proud. I can relate to Jason because Special Olympics makes me feel like I have something important to share.
When Wyatt Spalding, an athlete from Fremont, came up, he spoke with a lot of confidence, and he made us laugh. He demanded our attention. I thought he did really well. Wyatt wrote a speech with his athlete leadership mentor. The Athlete Leadership Program is for all athletes who want to share their experience with other people and other athletes to give them a peek of who we all are. I was one of the first athletes from the pilot program.
During the party, I went around and interviewed people. Everyone was talking about Unified Sports. Unified Sports is when Special Olympics athletes and non-athletes compete on the same team. Everyone wants more Unified Sports for now and for the future. That way, us athletes can play with our siblings and friends a lot more and to have more tournaments. We also need to expand our MedFest, so our athletes can be the healthiest they can be for years to come.
The first interview I took was from Scott Wright. I asked him why he was involved in Special Olympics, and he said that it was because of his nine year old son Nicholas. All our parents are involved because of us. They enjoy volunteering, spectating, and coaching because they know what's best for us athletes. My parents and I have been involved in Special Olympics together for as long as I can remember. My mom started coaching tennis in Ralston with me, and my dad started in Ralston too. He coaches basketball at OPS, now. Special Olympics has been a big part of my family thanks to my parents.
Carolyn summed it all up with these words, "Working hard to have courage and to never give up. Acceptance is a strong word, but it fits. To be accepted means to be within a family who belongs together." That is what Special Olympics to me is all about. Acceptance and Respect. Sharing and Joy for all.
The Special Olympics Nebraska holiday party was a great celebration of our work in 2015, and it got us excited for all the great things coming in 2016!