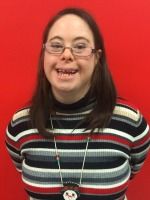 "Inspirations by Melissa" is a new web column written by athlete correspondent Melissa Giersch.
The Champions Together Luncheon was held Wednesday October 21st, 2015 at Happy Hollow Country Club. The lunch was good, and everyone who spoke did such an amazing job. The stories were very inspirational. Skylar Simmons opened the program singing the National Anthem and speaking the Special Olympics oath. She has an incredible voice. Jeff Shannon's story brought tears of joy to my eyes, because he and his son were brought together through Special Olympics. I have Down syndrome too, it hit close to my heart. When Dan Kline spoke about his son, Andrew, I was struck by his obvious pride and joy.
Carolyn Chamberlin told a story about when she was young and played softball, she was scared that the ball would hit her when she came up to plate. But she overcame her fear and won the game for her team.
Carolyn's speech made me feel like there was nothing to fear, and like I would shine big in whatever I wanted to do. What the people at the luncheon didn't know, was that at the rehearsal that morning, I was almost too nervous to speak. When I went up to the stage I was still nervous. But, I was more confident like I had this in the bag. The longer I spoke, the more confident I got. When I finished I saw hundreds of people smiling at me. It felt like I did something amazing. When I saw my best friends, I knew I got my message across.
The Luncheon was a slamming success. Thanks to all who supported Special Olympics Nebraska.