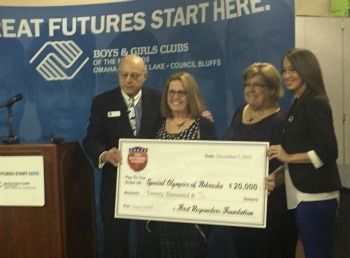 Special Olympics Nebraska is honored to accept a grant of $20,000 from the Omaha First Responders Foundation's "Kerrie On" fund in honor of fallen officer Kerrie Orozco.
Officer Orozco was a longtime supporter of the mission of Special Olympics Nebraska. She volunteered at our Summer Game Aquatics competition as well as raised money for our athletes with the Omaha Police Ball. She even was brave enough to take the Polar Plunge!
The grant will be used to fund our Project Unify initiatives in Omaha Public Schools. The funding will be used to grow and enhance the OPS Sports Classic and the OPS Fellowship Games. The Omaha Police Department will be invited to participate in these events by working directly with Omaha Public School students with and without intellectual disabilities. Each game the "Kerrie Orozco Award" will be given to an outstanding volunteer or leader that embodies the passion and commitment Kerrie showed towards the Special Olympics movement.
This gift will potentially touch the lives of 54,000 Omaha Public School students, helping change the climate of the school culture toward acceptance and understanding.
The grant from the First Responders Foundation will ensure the athletes of Special Olympics Nebraska can continue to Play Unified.