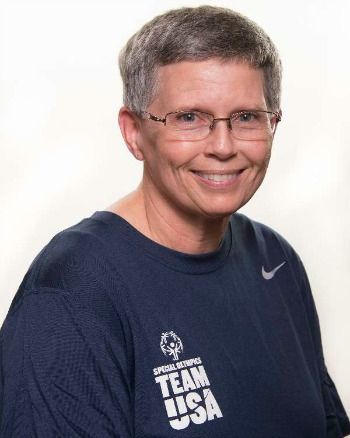 Special Olympics Nebraska is proud to nominate West Point coach Barb Rolf as the Special Olympics North America Coach of the Year.
Barb has been involved with Special Olympics Nebraska for 34 years! She has coached Athletics, Soccer, Flag Football, Softball, Basketball, Bowling, Unified Bowling, Bocce, Powerlifting, Floor Hockey, Aquatics, Unified Golf, Roller Skating, Volleyball, and Snowshoeing.
Barb is a tremendous teacher and always puts her athletes first. Her example has filtered through the entire program in which she leads. Her athletes, coaches, and supporters provide as good of demonstration of sportsmanship as any delegation you will find. This is due to the fine example and standard that is set by Barb with her daily actions. She is organized, communicates well, and leads by example. She not only supports the sport component of Special Olympics, but is heavily involved with health, education, and development. She has developed a program within a smaller community and made it very special due to her ability to lead, motivate, and her commitment to our mission.
Barb has been involved as a coach with Special Olympics since 1981. She has touched the lives of so many different people within the roles she has held. She has been a coach and Head of Delegation. She has not only represented Special Olympics Nebraska, but Special Olympics USA as well. She has been involved with three separate National Games as well as three separate World Games. The athletes she has served always show tremendous dedication and sportsmanship in large part due to the guidance she provides.
Barb is a Physical Education Teacher and has been critical in the partnership held between Special Olympics Nebraska and the school district in which she is employed. She is also part of the committee that is working to bring Unified Sports to our Nebraska schools as a result of a growing partnership between the Nebraska School Activities Association and Special Olympics Nebraska.
Barb is a tremendous person and has given to the Special Olympics movement for 34 years. She is an integral part of the Special Olympics Nebraska community as well as the community of West Point, NE. She cares a great deal for all she comes in contact with and sets a standard of excellence for her peers to follow. She is well respected and has impacted athletes and stakeholders of Special Olympics from all over the world. She is consistent and driven to succeed, and the outcome achieved for any event, competition, or initiative in which she is a part of is of the highest standard.
"West Point competes year around so there is no off season for Coach Rolf. he shows no signs of frustration just a determined face as she keeps each athlete in check. She treats and knows each athlete like she would her own child and they look up to her as a second mom."
-Alisa Hoffman, SONE coach and staff member
"She is very dedicated at all our practices. She is pretty much the best coach you will ever see. She is the best coach I have seen at pretty much all the sports."
-Kendrick Luebbert, West Point Athlete
"Barb has been a steadfast supporter of individuals with intellectual disabilities for her entire adult life. As a head of delegation and coach for Special Olympics Nebraska, she is the type of person we can ALWAYS count on to go above and beyond in this role."
-Carolyn Chamberlin, Special Olympics Nebraska CEO/President