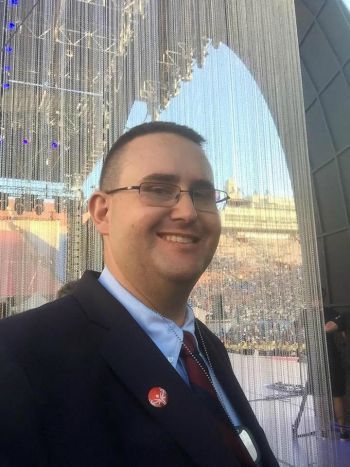 World Games Wrap Up by Jason Gieschen, Sargent Shriver International Global Messenger
This was the amazing summer to "Reach Up" for inclusion, acceptance, honor, courage, respect and joy at the 2015 Special Olympics Summer World Game in Los Angeles. Scot Caldwell from Gallup who is my International Global Messenger Mentor and I arrived at Los Angeles International Airport on July 23 and hit the ground running—literally. We renewed acquaintances with the other 11 International Global Messengers and their 11 Mentors, and our Advisors from Special Olympics International: Kathryn Clark, David Thompson, and Emily Klinger. We spent one night in the Hiatt but were soon moved to the beautiful campus of UCLA which became our home until our return to Nebraska. The 7000 World Games athletes were housed either at UCLA or USC depending on their sport.
From before Opening Ceremonies to Closing Ceremonies we were busy just keeping up and making our scheduled events. I was scheduled to speak, give a presentation, conduct a survey, participate in a meeting or greet people from all over the world almost day and night.
The evening before Opening Ceremonies I attended a reception at Maria Shriver's house where I reconnected with Maria and Tim Shriver and met many dignitaries and celebrities including Larry King, NBA star and current LA Clippers Coach Doc Rivers, President of Rwanda Paul Kagame, NBA Star Dikembe Mutombo, Scott Hamilton, Bart Conner, ESPN President John Skipper, Robbin Roberts, and Vanessa Williams.
The following morning I attended and spoke at the SOI Board of Directors with Tim Shriver and Mutombo, followed by the Open Stakeholders Meeting at the LA Live Center. The Open Stakeholders Meeting gave people interested in Special Olympics a chance to ask questions and give input. After the meeting, I was told the Golisano Foundation donated twenty-five million dollars to the Special Olympics Healthy Athletes Program. One of the most important messages in my speeches and presentations was the value and importance of the Special Olympics Healthy Athletes Program. So, hearing this news made me very happy.
At Opening Ceremonies I was on stage before an audience of 60,000 spectators and 10,000 athletes and volunteers. I appeared on ESPN throughout the world with Tim Shriver and First Lady Michelle Obama. Back stage I met Ed Harris, who even gave me a shout out, calling me by name, during his presentation at Opening Ceremonies. I also got to mingle with several VIP's including Stevie Wonder, Avril Lavigne, Eva Longoria, Kansas City Chiefs running back Jamal Charles, Jimmy Kimmel, WWE stars The Big Show and Stephanie McMahan, and retired boxer Oscar De La Hoya. It was awesome.
The next evening all of the International Global Messengers (IGMs) and our Mentors were invited to the Founder's Reception in honor of Eunice Kennedy Shriver sponsored by Coca Cola and ESPN where I met and mingled with Coca Cola CEO Muhtar Kent, ESPN President John Skinner, and the other IGMs. We then listened to the band O.A.R and Cody Simpson who performed Reach Up! —the theme song for the LA 2015 World Games.
We were up early the next day to attend the Bank of America breakfast. Bank of America was a major sponsor of the World Games and also provided funding for the training for all of the IGMs.
During the week I went to Fox Studios for the 10th anniversary celebration of the Ringer and met the cast and producer including Johnny Knoxville, Jed Rees, Edward Barbanell, Leonard Howze and producer Peter Farrelly. At Closing Ceremonies I was able to meet Carly Rae Jepsen, Andra Day, and Mix Master Mike of Beastie Boys. I was honored to introduce the band O.A.R. with news caster Victoria Arlen from ESPN to the crowd of 40,000 spectators and 10,000 athletes, coaches and volunteers. What an amazing experience!
The IGMs were able to participate in what was called Unified Sports Experience. I played volleyball with other athletes and two Olympics medalists. Not only was it fun but we were awarded commemorative gold medals for our play. It is a great remembrance of World Games in LA. Dan Bauer, an Ogallala graduate and friend who now lives in LA, was able to come and watch us play and also attend some of my other speaking events, including Closing Ceremonies. That meant a lot to me that he took the time to attend and support me.
I was able to attend and watch some of the sports events. At the Powerlifting competition I was honored to present medals to some of my teammates that I had trained with in Indianapolis. Coach Tiger Patrick arranged for me to award the medals and ribbons. I was beyond happy to do this. I also was able to present awards to the World Games athletes at the Gymnastics Competition. I was also honored to welcomed fans and families to My First Sports Experience where the young children participated in baseball for the first time. What an exciting event for those little ones.
World Games was an incredible experience. Not only did I get to meet many celebrities, but more importantly I met and spent time with the most important VIPS—the athletes from all over the world. It was great reconnecting with the other IGM's and getting to know them better. People ask what was most memorable and that is difficult to answer because of all the great experiences. But if I have to narrow it down I would say getting to award the World Games athletes their medals and ribbons. That was special to me.
Because of my participation in World Games as a Sargent Shriver International Global Messenger, I am full of gratitude for so many blessings. I am thankful that I have a great friend in my Mentor, Scot, who saw to it that I never missed an appointment and that we somehow managed to arrive on time despite the LA traffic. I am thankful for my Mom and Aunt who went to LA to be there for me. I am thankful for my whole family who supported me from home. I am thankful to my co-workers for their encouragement and words of support. I am thankful to the SOI staff, the SONE staff, and my team for their backing and good wishes. I am thankful to the donors and corporate sponsors who underwrite our training and keep us strong. I am thankful for the volunteers and coaches whose expertise and enthusiasm keeps us going. The athletes, my fellow athletes--most of all I am thankful for all my fellow athletes for their friendships and their acts of inspiration. It is my honor to be an advocate for my fellow 5 million athletes worldwide. I want to be a difference maker for all of them.