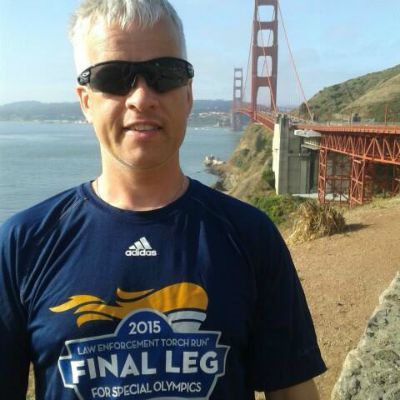 At every ceremony, one peace officer and one athlete speak about their experiences with the Torch Run and Special Olympics. Tonight in Palm Springs, Gumi told a story.
My roommate Gumi, is a police officer from Iceland. He's an immensely kind-hearted, generous man who is so excited to be here, that his enthusiasm rubs off on everyone he meets.
Gumi told a story about a little boy in his hometown who loves sports and had lots of friends. That is, until an accident left him with a traumatic brain injury. Gone was the happy little boy, and in his place was a boy who was made fun of at school for being different. The kids who had previously been his friends shunned him for those differences, and he was sad and alone.
Then, someone introduced his family to Special Olympics and suddenly everything changed. He had friends, teammates, and coaches who loved and accepted him for who he was. Spectators came to cheer for him and his team, and now back was the happy child who had friends and played sports.
I've had several moments this week that have reduced me to tears, and I and the rest of "Route 3" were well on our way to crying our eyes out again during this story when Gumi added that the little boy in his story is his son.
The happy ending to what was an enormously emotional moment was when Gumi told the crowd that his son's soccer team was going to represent Iceland at the World Games.
As I've said before, I'm relatively new to the Torch Run and Special Olympics. I knew that I was going to be assigned to speak at two venues. My opportunities came early on day one and two, when I spoke about how we started to involve our recruit classes by having a Torch Run of our own, with the goal of ingraining in them the spirit of public service.
I have teammates though, for whom Special Olympics and the Torch Run aren't just ways to help give back to their communities, they're a way of life. I don't know how many Icelanders are coming to California to root for their team, but based on the response in Palm Springs, I think there will be more than a few Californians rooting for them, and I know who the officers and athletes on Route 3 will be backing!