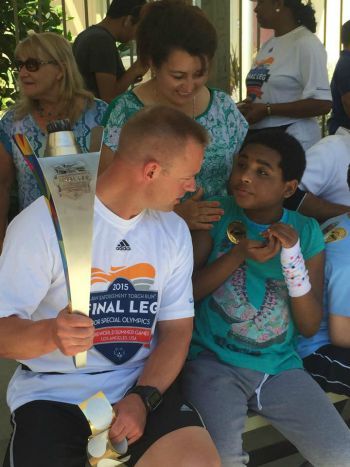 Sam Rankin is a teammate of ours from Fargo, North Dakota. Despite us constantly making fun of his accent (ohhh yah, don'cha know!), Sam has become a fast friend to all of us.
Sam also has a true heart for Special Olympics. Of course every one of us gets emotional during the many ceremonies, or when we get an opportunity to speak to people about what we're doing, but Sam wears it on his sleeve.
Today we stopped in Gilroy and we were 20 minutes ahead of schedule. Rather than sit and twiddle our thumbs, our fantastic logistics team found the Gilroy Gateway School and we stopped by for a visit.
We brought an unlit torch out and spent a few minutes posing for pictures with the kids. For me, this was a new experience. I've only ever spent time with athletes and had never been in a school like this before. I sat on a bench next to a little girl who was not communicative, but she reached up and touched my face. Sam snapped a picture just a second later.
As we were getting back on the bus, Sam said: "If I could just give them one day."
There are times when just a few words hit with a weight like a hammer, and that's what Sam's did.
I started to wonder the same thing, but then I realized that it wasn't that long ago that these children would have been cast aside rather than given an opportunity to learn and develop in a school.
When fellow Trooper Jeff Boston nominated me to be part of the Final Leg team, I was honored and humbled. I knew there would be emotional moments, but I don't think I fully expected what I would experience. Expected to have a once-in-a-lifetime experience? Of course! Expect to see and experience things that I would never forget? Sure. Expect to spend time in a school that causes me to re-evaluate the way I spend my own time to maybe find time to help in other ways? Nope. Didn't expect that one at all, but it happened.
Maybe, like Sam said, we'll never be able to give kids "just one day," but maybe you and I, through volunteering, philanthropy, or just helping raise awareness can find a way to make their days as full and enriching as possible.
And if Sam Rankin is anything back home like he is here, then the people of Fargo, ND are in good hands.