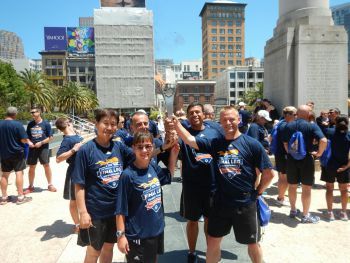 Law Enforcement and Special Olympics have a long relationship, dating back to 1981.
Since then, it's a movement that's exploded, growing roots that have entwined both athletes and peace officers together in what feels like an almost symbiotic relationship.
That is in evidence here at the Final Leg Torch Run every day. Just like our athletes, our officers come in all shapes, sizes, and ability levels.
Those who know me would call me a fitness fanatic, I work out twice a day at least 5 days a week, and am in the best physical condition of my life. I look around though, and see officers with us who are not runners by nature who are definitely hurting.
Here's where the symbiosis comes into play: many of the officers don't like to run.
To many it would seem counter-intuitive to come be a part of a Torch Run, when one of the two words in that phrase makes you want to just roll over and go back to bed.
But this isn't just ANY Torch Run, it's THE Final Leg Law Enforcement Torch Run for Special Olympics. Just in the last two days I've heard a number of coppers from all over the world say something to the effect of: "I don't like to run, but for our athletes and 'the cause,' I'll suck it up."
Speaking of the athletes, each of the ten teams of peace officers has an athlete on their team. We're responsible for that athlete and their well-being throughout the Final Leg. There are three teams on our bus, so there are three athletes: Daniella is our athlete, and the other two teams have athletes William and Cody respectively.
Our team leader, Gary, told Daniella's mother and all of us over a conference phone call several months ago that Daniella would have 9 new big brothers and sisters that would look out for her. I had no idea how true that would be.
I'm fairly new to the Torch Run, but already the last three days have been a life changing experience. When we first met Daniella she was quiet and shy, like you'd expect a young lady to be when surrounded by a group of type A personalities. Today, I made a joke to another teammate, Cheryl, about her age (I never claimed to be very bright), and Daniella couldn't stop laughing. She knew I was in for it, and she was right. My point is that Daniella is OUR athlete, and we are HER team.
After experiencing this bonding the last couple of days, and speaking to so many brothers and sisters from all over the world who have had similar experiences, I've come to this conclusion about our 2015 Final Leg Law Enforcement Torch Run team:
For our athletes we will run even if we don't like to. We will suffer through sore muscles, sore feet, and the hot sun. We will set aside aches, pains, and old injuries, and we will love every second of it! We will do this because we realize that by becoming involved in Special Olympics and the Law Enforcement Torch Run, we become part of a bonded, symbiotic family whose members sustain each other past those aches, pains, and sunburns (and trust me, despite repeated sunscreen application, I have a doozy), because WE, all of us, athletes and peace officers are family. And that's what family does for each other.