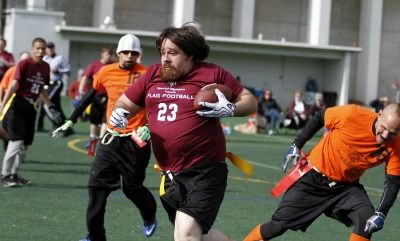 The cold of Fall didn't slow down our athletes from heating up the fields and alley's these last few weeks. We had three big events recently. There were two different flag football events and of course Unified Bowling. Unified Bowling took place at Big Apple Lanes in Kearney and also out at Maplewood Lanes in Omaha. This was our first time at Maplewood Lanes, and it was a big hit.
On day one in Unified Doubles out West Kearney grabbed 14 medals, with 4 of them gold, 7 silver, and 3 bronze. Hastings Alumni took home 12 medals, 1 gold, 6 silver, and 5 bronze. Hastings School Age grabbed 3 gold medals, followed by Cambridge getting 2 gold medals. Teams from North Platte, Chadron Rattlers, and Boyd County all took home a gold medal. And finally West Tri County Ogallala took 2 bronze medals.
In the East, the teams taking home the most medals were Papillion/ LaVista and West Point. Both teams received 9 medals. Each team had 3 gold medals. West Point had 4 silver, and 2 bronze, while Papillion/ LaVista had 2 silver, and 4 bronze. Lincoln Shooting Stars had 3 gold, to go along with a silver and a bronze. Lincoln South East Knights earned a gold and a silver, while the Lincoln Choo Choo's took a silver and two bronze. And finally Cass County had one silver, and South Sioux City grabbed a bronze.
But there was still more bowling to come. On Sunday it was time for Unified Teams. Most of the teams were from South Sioux City or Bellevue. South Sioux took 15 medals, and split it evenly, 5 gold, 5 silver, 5 bronze. Bellevue captured 3 gold, 2 silver, and 4 bronze. Papillion/ LaVista received a gold and a silver. And finally the only team from Lincoln, the Lincoln Shooting Stars took home a silver.
Moving on to that cold weather sport, of course we are talking about flag football. Most teams were coming off of a warm up contest just weeks earlier out at Mount Michael. But now we're talking about playing on 4 gorgeous fields at Abbott Sports Complex, October 18th and 19th. Starting off with skills, it was Eric Howard, Lorenzo Blea, and Alex Schadt all winning gold medals. While Dustin Splittgerber took home a silver and, Brian Petersen brought home a bronze, respectively. Moving onto the Unified teams in reverse order, it was Columbus coming in 5th, West Omaha Warriors coming in 4th.
One of the out-of-state teams, the Oklahoma Razorbacks received the bronze medal. That left the two teams that always seem to be playing each other for the gold left. And the Minden Whippets defeated the Fremont Tigers to win the gold medal. It was a tough go for the Lincoln Shooting Stars teams, as their Navy and Gold teams both ended up with 4th place. While Dawgs Gone Wild from Lincoln, and South Sioux City White won the bronze medals. In Division 1, Papillion /La Vista defeated Madonna for the gold. In Division 2 South Sioux City Red handed the Fremont Knights a loss in the gold medal game. In Division 3 play Beatrice got the best of West Point in the final game that mattered. And finally in Division 4 the Papillion /LaVista Cougars made sure to take care of that team from Kansas, the Bulldogs for their gold medal.
Then the weekend of November 8th and 9th hit. Special Olympics Nebraska and other Special Olympic programs were invited to participate in the N.I.R.S.A (National Intramural-Recreational Sports Association) 20th Annual Regional Flag Football Championships at UNL. In all there were 45 teams there to play in all different divisions. Special Olympics had 11 teams in the tourney with 7 of them being traditional, and 4 of the teams Unified. Special Olympic teams were represented from Wisconsin, Minnesota, Iowa, and of course Nebraska. Pool play was done on Saturday and there was some redivisioning done for Sunday. The biggest change was moving the Oshkosh Predators (Wisconsin) from the traditional bracket to the Unified bracket for the Sunday games. The reason……they were making everyone they played on Saturday say "Oshkosh my gosh, these guys are good." Oshkosh were easily blowing away their competition.
Well, how did the teams do on Sunday you asked? In Pool C, Dawgs Gone Wild, beat out Lincoln Shooting Stars for the gold medal. In Pool B, it was the Papillion/ LaVista Cougars beating out Cedar Rapids Parks & Rec from Iowa for the gold. While the Columbus Silver Bullet received the bronze. And finally in Pool C, it was the two Nebraska teams fighting for the bronze in the Unified Division, with the Minden Whippets taking it from the Fremont Tigers. That left two out-of-state teams playing for the Gold. The Unified Rams from Minnesota were victorious over the very talented Traditional Oshkosh Predators from Wisconsin.