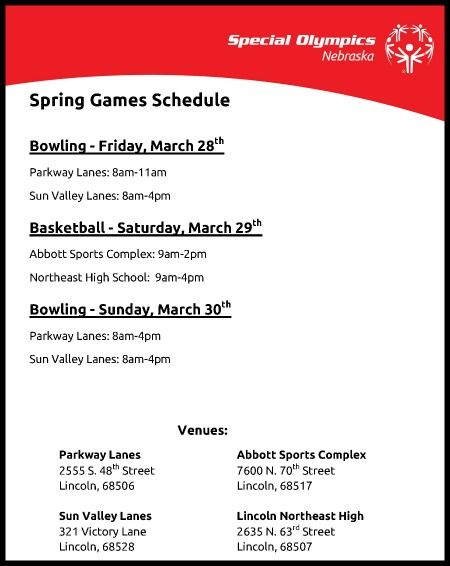 For many Special Olympics Nebraska athletes, Spring Games represents the culmination of a year's worth of training and regional competition to qualify for the opportunity compete at the state level.
This weekend, 1,416 Special Olympics Nebraska athletes will test their skills in bowling and basketball. Over 60 Special Olympics Nebraska teams will travel to Lincoln from as far as Scottsbluff and South Sioux City and every where in between. To pull off an event of this magnitude requires the help of over 400 volunteers.
Spring Games kicks off on Friday with bowling at Sun Valley and Parkway Lanes. Basketball will take place all day Saturday at Lincoln Northeast High and Abbott Sports Complex. The games will wrap up on Sunday with the final bowling competions at both bowling centers.
The public is invited to come and cheer on our athletes as they test their strength and determination to earn the gold.