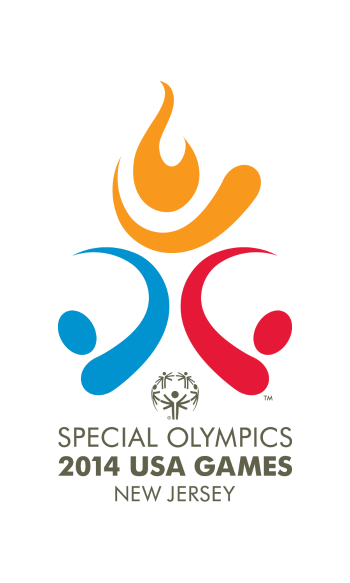 After a year's worth of competition and training, a select team of Special Olympics Nebraska athletes will display their skills on the national stage at the 2014 Special Olympics USA Games. Team Nebraska's delegation is comprised of 90 members, of which 70 are athletes or Unified Partners and 20 are coaches. Our team name will the Nebraska Express!
More about the 2014 USA Games from www.2014specialolympics.org/ -
In June of 2014, New Jersey will reveal America's Champions at a historic, life and perception-changing event.
From June 14-21, New Jersey will host the 2014 Special Olympics USA Games where more than 3,500 athletes from around the country will compete in 16 sports before tens of thousands of fans and volunteers.
Every four years Special Olympics conducts a National Summer Games in the United States that includes athletes from all 52 US Programs. New Jersey was chosen as the host of the 2014 Special Olympics USA Games, the most dynamic, innovative and largest national Games to date.
The 2014 USA Games is also being billed as the Games of Welcome and Acceptance. Competitions will be offered in both Traditional and Unified play, bringing together the community to support and play side-by-side with our athletes, in what expects to be the most inclusive Games in Special Olympics history.
While the 2014 USA Games will highlight competition, it is the special events including Opening and Closing Ceremonies, the athlete events and educational programs throughout the week that will create an experience of a lifetime for all athletes, families and volunteers in attendance. The potential reach of these Games will help lead to a change in understanding and acceptance of persons with intellectual disabilities in communities throughout New Jersey as well as the United States.
Congratulations to Team Nebraska!
Athletes representing Team Nebraska are as follows:
James (Jim) Volpert
Kevin Teachman
Chad Magsamen
Scott Anderson
Tencie Tonniges
Skylar Simmonds
Isaiah L. Antillon
Evan Lee Devore
Martin E Hall
Brad Kavan
Angelo McIntosh Jr
Tyayre Ross
John M. Sherbert
Bladen Martinez
Charlie Vyhlidal
Zach Allen Womach
Michael Free
Ryan Lewis
Levi Drees
Garrett Stipke
Daniel Griggs
Damien Drees
Caleb Crippen
Bahji Gandu
Joshua Solis
Jose Abel Uribe
Corey Groves
Eryc Bravo
Guillermo A Solis
Segan Cakebread
Dustin Clark
Matthew Clark
Arthur Duff
Nicholas Duncan
Zachary Duncan
Dustin Kelley
John Kelley
Michael Kelley
Christopher Knickerbocker
Reqinald Lee
Joshua Reinwald
Alyssa Ross
Elizabeth Streur
Tim Hruza
Talisa Stumpf
Garrett Peterson
Matt Love
David Harkey
Mark Mixan
Jacob Olson
Dori Zeilinger
Nicole Eikmeier
Kendrick Luebbert
Shannon Hernandez
Holly Busse
Larry Crippen
Chad Bennett
Daniel Foley
Doug Jamison
Shilo Zangari
Joshua E Hall
Dan Jamison
Joe Volpert
Marilyn O'harrow
Humberto Tapia Espinoza
Aldo Bravo Ahumada
Ariel Covarrubias
Edson Irineo
Erick Galvan
Janet Busse
Coaches and Heads of Delegation are as follows:
Larry Bates
Barb Rolf
Michael DeCatur
Cory Piercy
Lenny Ginder
Leonard Eugene Hall
Chris Martin
Debbie Crippen
Ed Reinhardt
Larry Duncan
Linda Fischer
Kimberly Sue Duncan
Amanda Dotzler
Sandi Morgan
Dian Christensen
Marla Grier
Rick Childree
Liz Bailey