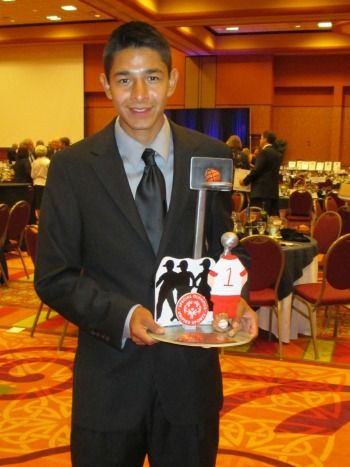 Scottsbluff County Coyotes' Steven Juarez was recognized by the Voices for Children Organization at their annual gala as the 2013 Youth Award Winner. Steven, 17, has been a Unified Partner with the Coyotes since he was only 12.
Steven was chosen for this award because of his exceptional leadership in the Unified Sports program, his years of dedication to helping those around him, and the barriers he has broken.
Steven has been a key volunteer contributing significantly to the Coyotes growth from 15 to 160+ members and volunteers. He has promoted awareness of the Unified Sports program by choosing it as his platform for speech competitions as he traveled throughout the Scottsbluff area and neighboring communities.
Steven told Voices for Children, "I just do what's right, which is working with these kids and making sure they're happy in their life."
If you ask Steven, he will tell you that working and playing with the teammates helps him to understand his abilities and gifts, and that after watching them overcome any issues that come their way he is fully aware that there is nothing in his life that he can't also tackle and accomplish.
Steven was selected as the 2013 Youth Award Winner after a statewide search. He was presented with a custom statue to a cheering audience including his coach at the 2013 Spotlight Gala on September 21st.
We are so proud of you, Steven!
To learn more about Voices for Children, please visit http://voicesforchildren.com/.