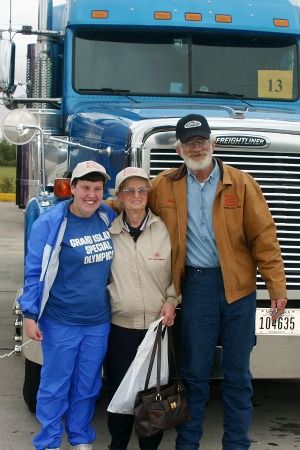 An army of truckers and law enforcement officers will escort the World's Largest Truck Convoy from Hastings to Grand Island via Hwy 281 on September 21, 2013 to help raise money and awareness for Special Olympics Nebraska. This year celebrates the 10th anniversary of the Truck Convoy in Nebraska! All funds raised from the event will benefit Special Olympics Nebraska athletes.
From start to finish the Truck Convoy participants will be greeted by Special Olympics Nebraska athletes, coaches, families and supporters and law enforcement. The event is more than just a convoy, though, it's a great way for truckers and the trucking industry to be involved in the community, send a positive message about their industry and interact with Special Olympics athletes. While the actual Truck Convoy in Nebraska is on September 21st, there are a lot events planned throughout the weekend. On the 20th there will be a picnic, softball game, raffle and live music at Smith Softball Complex in Hastings for all the Convoy participants and athletes. Then following the Truck Convoy on the 21st there will be a cookout for lunch, an auction and awards ceremony at Bosselman's Travel Center in Grand Island.
For a complete listing of the Truck Convoy activities or to learn more about how to get involved please visit http://www.sone.org/events/letrevents/convoy.html or email Katie Ryan at kryan@sone.org. Registrations for driver participants will be accepted until the start of the Truck Convoy on September 21st and all Special Olympics Nebraska athletes, families and supporters are invited to come out and take part in the fun of the Truck Convoy.