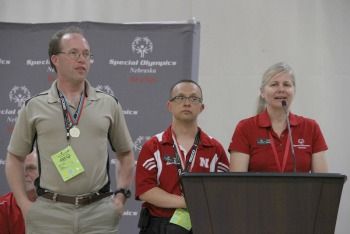 Integral to Special Olympics is a dedication to empowerment and dignity; the Athlete Congress is the epitome of that effort. Athletes who take part are nominated by their peers; HOD's, coaches and voice the opinions and concerns of their fellow athletes and volunteers within the structure of a committee structure. The Athlete Congress is a forum where delegates with intellectual disabilities from throughout Nebraska work to recommend policy and set direction for the Special Olympics movement.
The Athlete Congress, with the 10 inaugural members representing different regions of the state, will converge at Fall Games. On the agenda is discussions around the Big Red Raffle, Healthy Habits and the importance of service club membership in their communities.
The goals of Athlete Congress are:
• Demonstrate that athletes can be the leaders within the Special Olympics movement and Special Olympics Nebraska
• Create an opportunity for Special Olympics Nebraska leadership at all levels to learn from the wisdom and experience of athletes
• Share ideas for improving the policies and procedures of Special Olympics programs at the local, region and state levels
• Develop recommendations and communicate them to the Special Olympics Nebraska CEO, Board of Directors, staff, and Games Management Teams
• Represent and report back to the athletes in each region who are represented by athletes attending the Congress
• Continue the process of creating an inclusive environment in which athletes are full and active participants and play a role in guiding their own future and the future of Special Olympics Nebraska
• Attend Nebraska Legislative Day which acknowledges the citizens of Nebraska who are intellectually disabled.
• The Athlete Congress meets four times annually.
Inaugural members 2013:
Jason Gieschen – Ogallala - West
Russell Moore – Chadron - West
John Sherbert – Minden - West Central
Connie Kresha – Columbus – West Central
Kristina Davey – Omaha – East
David Harkey – Blair – East
Eric LoChiano – Omaha – East
Holly Brown – Fremont - East
Douglas Corder – Lincoln – East Central
Christian Beard – Lincoln – East Central