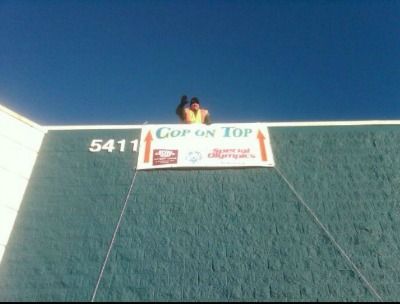 The annual Cop-on-Top event is going down this weekend December 21-23 in Kearney at the Wal-Mart. Cop-on-Top consists of one very brave law enforcement officer spending a weekend (day AND night) living on top of the Wal-Mart, come snow or wild geese! And the officer isn't coming down until he's collected enough donations for Special Olympics Nebraska!
This year that brave officer is Seth Vanhorn of the Kearney Police Department! This is Officer Vanhorn's 2nd year doing the Cop-on-Top. We chatted with him recently to learn what it's like living on top of a Wal-Mart for a weekend in the dead of winter.
Name: Community Safety Officer Seth Vanhorn
Age:31
Years in Law Enforcement: 6 ½
Hometown:Kearney, NE
How did you first get involved with the Nebraska Law Enforcement Torch Run and Special Olympics?
I met Officer Jeff Boston who is involved with the LETR at the UNK Police Academy. We did a Torch Run event at the academy and I've been involved ever since.
What is your favorite Special Olympics event?
I really like bowling and track. I've volunteered at bowling events in the past. Of course, the Cop-on-Top is my favorite! Being up on the roof of the Wal-Mart is exciting. I like to mess with people like telling them I'll find them the best parking spot if they make a donation. It's fun to joke around with the customers.
This will be your second Cop-on-Top for Special Olympics Nebraska. Do you have any stories from spending a weekend living on the roof of a Wal-Mart?
A lot of times, people will doubt you're sleeping on the roof and holler up at you. One time, a huge group of geese flew over me in the middle of the night. I thought they were going to land on me! They were 3ft. from my tent!
What was the weather like?
It was cold! It even snowed an inch or two and the visibility was poor. I couldn't see beyond the parking lot.
How much are you hoping to raise for Special Olympics Nebraska this weekend?
I haven't set a goal this year. I'm just hoping to raise as much as I can.
How do you keep yourself busy up there?
I love talking on the megaphone. It's fun to interact with the crowd as they come in and leave the Wal-Mart. Sometimes they're pretty shocked to see me up on the roof!
Officer Vanhorn will be living on top of the Wal-Mart in Kearney December 21-23. Donations to Cop-on-Top can be made at the Wal-Mart or online at www.sone.org.