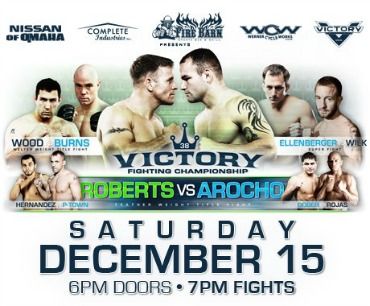 Special Olympics Nebraska is so excited to partner with Victory Fighting Championship for an awesome evening of Mixed Martial Arts bouts at the new Ralston Arena December 15th! Our organization will receive a portion of ticket sales, so make sure to spread the word to your friends and family about this fun night of MMA to benefit SONE!
Tickets are available at ralstontix.com.
Read below for more information:
"The Victory Fighting Championship, the premier mixed martial arts organization in the Midwest, is excited to announce partnerships with Special Olympics Nebraska and the Muscular Dystrophy Association Omaha. A portion of each ticket sold for the Saturday, December 15th event will benefit these organizations. Tickets for the event are on sale now.
"I'm thrilled to announce our partnership with the Muscular Dystrophy Association Omaha and Special Olympics Nebraska and hope the community will join us in supporting their causes," said Ryan Stoddard, Victory Owner. "Victory is proud to be able to give back in a way that benefits deserving, local organizations."
This year also marks the tenth anniversary of Victory as well its first year in a new home at the brand new, state-of-the-art Ralston Arena.
Fans are encouraged to visit victoryfighter.com , facebook.com/victoryfighter and Twitter @victoryfighting to stay up-to-date on the latest match-ups and news."
Confirmed for the December 15 Victory event are:
UFC and Bellator veteran and Valley, Neb. native Ryan Roberts versus Bellator veteran and Papillion, Neb. native Josh Arocho in a featured bout.
UNO wrestling stand-out Jay Wood competes for the Victory Welter Weight title. Omaha native and The Ultimate Fighter 14 participant Drew Dober.
Ticket Prices
Reserved Bowl $15
Reserved Bowl | $25
Day-of | $30
Ringside row 1 | $57
Ringside row 2 | $47
Ringside row 3 | $37
Gold VIP Table for 10 | $600
Silver VIP Table for 10 | $500
Bronze VIP Table for 10| $400