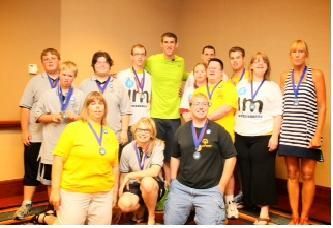 On July 2nd, 2012, Special Olympics swimmers from Fremont experienced a dream come true: Breakfast with their rock star champion, Michael Phelps. 14 Special Olympics swimmers from Fremont, Nebraska each wore their favorite gold medals to meet Phelps. These athletes along with their coach Dian Christensen, piloted the Michael Phelps Foundation's im program.
im is named after Michaels signature event, the Individual Medley, while also abbreviating the self-affirming "I am." This program is designed to encourage healthy and active lifestyles for participants by offering water safety courses, recreational pool activities, swim training and wellness education. The programming is not only adapted for varying skill levels, but also for intellectual and physically disabled.
Michael Phelps, upon his arrival was greeted by an enthusiastically sung "Happy Birthday." Phelps then warmly and gently greeted the group and asked for the group to ask questions. First question asked by Special Olympics swimmer, Emily Taylor, "Can I give you a birthday present?" Phelps graciously accepted the gift and several birthday cards.
James White, asked Michael if he could give him one of his Special Olympics pins and asked for a handshake. James said, "That was awesome and he is a nice man. We are the same age and both gold medal Olympians!"
Kyle Pashcall, who has been a Special Olympics swimmer for over 20 years said Michael Phelps made him so happy and proud to be a Special Olympics swimmer.
"He was awesome and really taller than I thought," Garret Peterson "this made my day!"
The Michael Phelps Foundation developed im in 2009, creating one of the first water-safety courses to offer accessible and affordable world-class instruction to children across the country. In 2011, after Michael became a global ambassador for Special Olympics, the Michael Phelps Foundation partnered with Special Olympics to launch the international pilot program of im. im was piloted in 7 countries and 6 continents. In the United States, one the 2 programs piloted was at the Fremont Family YMCA Special Olympics swim program with coach Dian Christensen.
A parent of a young learn-to-swim Special Olympics athlete stated, "The lessons have given my child confidence he never knew he had!"
Phelps will be competing in eight events in the 2012 Olympics in London.
Learn more about the Michael Phelps Foundation at www.michaelphelpsfoundation.org/