Sports
Coaches
Coaches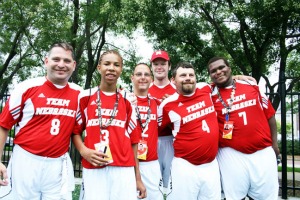 Few people impact our athletes' success more than their coaches. Coaches not only provide sports skills but they are role models who teach Special Olympics athletes about character, sportsmanship, courage, ability and personal growth. Special Olympics coaches often find that the personal rewards received are equal to or even outweigh the benefits they offer the athletes.
In addition to the interaction with our athletes, Special Olympics Nebraska coaches are members of the Nebraska Coaches Association and participate in annual training opportunities.
Assist athletes in learning sports skills and applying them in competitions

Encourage confidence and self-esteem through sport

Help to recruit athletes and assistant coaches

Obtain necessary facilities and equipment for training
For more information about becoming a coach, please visit our coaches page: Become A Coach!