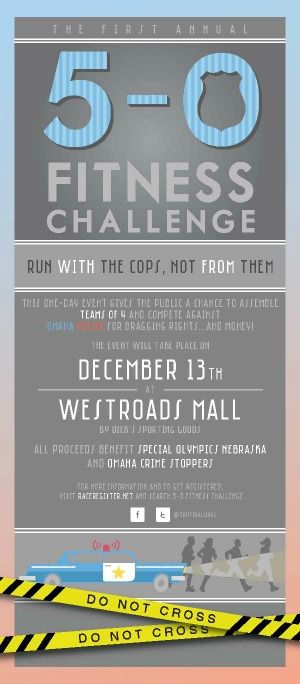 Are you more fit than a cop? If so, or if you'd like to test your fitness to see if you are, get a team together and join in on the 5-0 Fitness Challenge!
This one-day event gives the public a chance to assemble teams of four to compete against Omaha Police for bragging rights...and money! The event will take place on Saturday, December 13th inside Westroads Mall (by Dick's Sporting Goods) during one of the busiest shopping days of the year!
The event will begin at 10am and run into the afternoon. There will be four stations that make up the 5-0 Fitness Challenge: stationary bike, running, push-ups/sit-ups and burpees/jump rope.
To compete in the 5-0 Fitness Challenge you'll need to gather your team and register at www.raceregister.net. The registration site also gives more details on the event and a full list of rules. The cost to take part in the 5-0 Fitness Challenge is $120 per team and proceeds from the event will benefit Special Olympics Nebraska and Omaha Crime Stoppers.
"As a police officer, I think there are community members who understand how community-oriented the job is and some that don't," said Omaha police officer Kevin Wiese, who planned the event. He said he hopes the challenge - which has the tagline "run with the police, not from them" - helps bridge that gap.
The 5-O Fitness Challenge is an event hosted by local participants of the Law Enforcement Torch Run (LETR) campaign, a partnership between Special Olympics and law enforcement officers worldwide. The LETR is a grassroots fundraiser and public awareness vehicle for Special Olympics through which funds raised go directly to local programs.
For more information about Special Olympics Nebraska or Omaha Crime Stoppers, visit www.sone.org and http://www.omahacrimestoppers.org/.