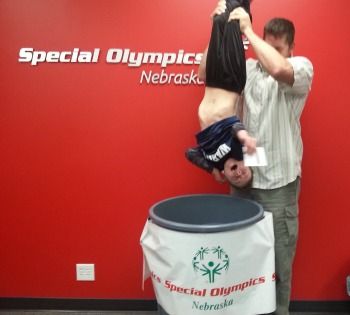 We are excited to announce the winners of our annual Big Red Raffle! The drawing was held yesterday in the SONE office and the winners were drawn at random with a little help from athlete Nick Wright.
Grand Prize: 2 Husker Football 2015 Season Tickets on the 50 yard line goes to Andrea Butler of Omaha.
2nd Prize: 2 Roundtrip Southwest Airline Tickets to the destination of your choice goes to Merrell Nelsen of Gordon, NE.
3rd Prize: 40" Flat screen TV goes to Lisa Reid of Omaha.
Congratulations! Our winners have all been notified. The Big Red Raffle raised almost $100,000 this year for our teams across the state. Thank you to everyone who sold tickets or purchased tickets this year!
And now on to our Big Red Raffle Athlete Winners!
Each region's top seller of raffle tickets has been awarded a $50.00 Visa Gift Card. The winners are:
East Region - David Harkey of Blair
East Central: Tyler Reiman of Beatrice
West Central: Eme Aufdenkamp of O'Neill
West Region: Jason Gieschen of Ogallala
Finally, one athlete seller is selected at random to receive a sport watch. That winner is....Mitchel Laetsch of O'Neill!
Congratulations to all of our athlete winners and THANK YOU for all your hard work raising funds for your teams this year!