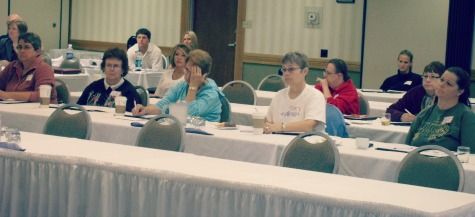 Up to date parking maps and a final list of attendees are available for our coaches in the Coaches Portal!
Who should attend? ALL COACHES AND PERSPECTIVE COACHES (This is not just for HODs)
When: October 11th
Check in: 8:00 am
Conference: 8:30 am – 4:30 pm (Lunch at 11:45, snacks throughout the day)
Where: University of Nebraska, Kearney
Student Union, Ponderosa Room
Park in Lot 4.
Directions to UNK:
From I-80
Take exit 272, toward Kearney (north on 2nd Ave/Hwy 10)
Turn left onto W. 25th Street (Qdoba and Walgreens at this intersection)
Turn right onto 9th Avenue
Left onto 28th Street
Left on 11th Avenue (there is no sign indicating that you are at 11th avenue)
Lot 4 will be on your left, the Nebraska Student Union is the black bricked building
Cost: $35 per person
Team Funds can be used, or pay in advance with personal check
Checks can be mailed to 9427 F Street, Omaha, NE 68127
What will we talk about?
• New sports rules/Updates from the state office
• Coaches Orientation
• Entry Forms
• Athlete assessment
• 2014 USA Games (Recap)
• 2015 World Games
• Best practices
What else goes on at Leadership?
• Networking with other coaches and state office staff
• Round Table Discussions with your Regional Director
• Opportunity to ask the CEO and staff any questions you may have
• Service Awards for coaches hitting 5, 10, 15, 20, 25, 30 and 35+ year milestones
• Big Red Raffle ticket return/pick up
• Silent Auction
Online Registration: Visit http://sone.vsyshost.com/ to register by September 19th
Hotel Information
(Book now, there are lots of weddings and other events in Kearney this weekend)
We have a limited number of rooms reserved at the Hampton Inn that are going fast. The rate will be around $102 per room. If you would like us to reserve a room for you at the Hampton, please contact Alisa Hoffman at ahoffman@sone.org or 402-331-5545 x 10.
Hampton Inn-Kearney
507 Talmadge Street
Kearney, NE 68845
Other area hotels:
(List for convenience only, feel free to choose one that's not on this list)
AmericInn Lodge, 215 W. Talmadge Street (308) 234-7800
Holiday Inn, 110 S. 2nd Avenue (308) 234-7300
Holiday Inn Express, 508 S. 2nd Avenue, South (308) 234-8100
Microtel Inn & Suites, 104 Talmadge Street (308) 698-3003
Quality Inn, 121 3rd Avenue (308) 237-0838
Ramada Inn, 301 2nd Avenue (308) 237-3141
Rodeway Inn & Suites, 411 2nd Avenue (308) 698-2810