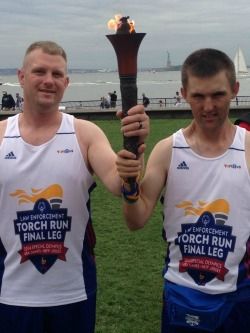 Deputy Sheriff Jared Shepard of the Scotts Bluff County Sheriff's Office has been selected to represent Nebraska in the 2014 USA Games Final Leg. Each state is represented on the Final Leg team by a member of their Law Enforcement Torch Run family. Running long with the law enforcement are 6 Special Olympics athletes.
The Final Leg will take place June 10-15 as the Final Leg team raises awareness for Special Olympics and the 2014 USA Games by carrying the Flame of Hope™ to many towns and communities in and around New Jersey. The culminating event for the Final Leg will when the team lights the cauldron at the opening ceremonies to signify the opening of the games.
Deputy Shepard has been employed by the Scotts Bluff County Sheriff's Office for over 2 years and had been involved in the Nebraska Law Enforcement Torch Run since joining the department. He is part of the local committee that organized the Torch Run and Polar Plunge for the area, and has participated in both events. Jared is excited to be a part of the 2014 USA Games Final Leg team and Special Olympics Nebraska is proud to have him represent our program.