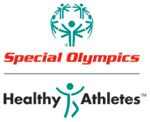 The 2013 Healthy Athletes screening will be held on Friday, May 24th from 8:30am – 4:00pm in the Skutt Student Center on Creighton University's campus. The registration table will be located by the ballroom on the lower level. Signs will be posted throughout the campus and in the Student Center to help direct you towards this area.
HOD's and/or coaches will be required to pick up their respective teams Healthy Athletes screening cards at the registration table. Athletes will not be allowed to pick up their own cards. HOD's and/or coaches will need their athlete's completed consent form to check in at the Healthy Athletes registration table. Coaches and/or HOD's will only be given as many screening cards as the number of consent forms they turn in. Athletes will not be allowed to go through the screening without a completed consent form.
Once the HOD or coach has checked in and received the screening cards, they will be responsible for distributing the cards to their respective athletes. Please make sure you have the correct number of cards for your athletes at the time of check-in.
A "goody-filled" Special Olympics drawstring bag will be given to athletes that turn in a completed screening card at the check-out table located next to the FUNFitness station.
All athletes are invited to attend, including those not participating in the Summer Games.
If you have any questions, please contact Katie Novicki at knovicki@sone.org.