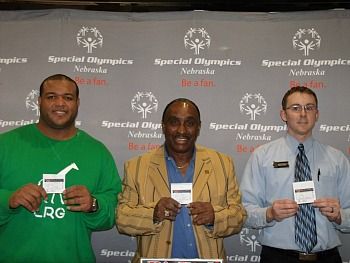 It's that time of year again! Thousands of Special Olympics athletes will be hitting the streets of Nebraska raising money for their teams.
The Big Red Raffle is a statewide fundraiser for Special Olympics Nebraska teams. 100% of the money raised will be donated back to the teams!
It's simple, purchase your Big Red Raffle tickets from your favorite Special Olympics athlete. One ticket is $5, and a book of 5 tickets is only $20!
Check out our fantastic prizes:

Grand Prize - Two (2) 2013 Nebraska Football Season Tickets on the 50 yard-line, donated by Farmers Mutual of Nebraska.
2nd Prize - Two (2) roundtrip tickets to any Southwest Airlines destination
3rd Prize - 32" Flat Screen TV

The 2012 Big Red Raffle runs from August 13, 2012 through November 13, 2012.
The drawing will be held on Friday, December 14th at the UNO vs. Minnesota State Hockey game at the CenturyLink center in Omaha and winners will be immediately notified. You do not need to be present at the drawing to claim your prize.
If you have any questions about the Big Red Raffle please contact Erin Stoll at estoll@sone.org.