Get Involved
Donate Time
Why Should I Volunteer?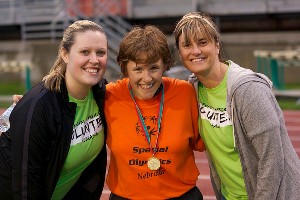 Globally, Special Olympics utilizes an army of more than 500,000 volunteers! In Nebraska alone, we need more 6,000 volunteers annually to fulfill our mission to provide year-round sports training and competition, leadership training, coaching and working with youth and schools. There is a place for everyone who is interested in helping forward our mission.
Day-of-Event Volunteer Description: Help run a component of competition, escort athletes, keep score, present awards, announce, assist with logistics, and more! Commitment: 1/2 day or full day options.
CLICK HERE FOR CURRENT VOLUNTEER OPPORTUNITIES