Get Involved
Donate Funds
Corporate Support and Sponsorship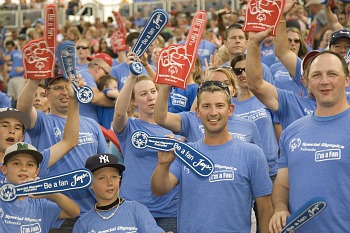 Special Olympics Nebraska is part of a larger movement that has improved the lives of thousands of people with intellectual disabilities, and along the way has grown into one of the world's most powerful and effective social movements.
In partnering with Special Olympics Nebraska, your company will:
• Co-brand with an internationally respected organization
• Forward your company's values by directly supporting Nebraskans
• Position itself as a leader of community enrichment
Choose the Partnership that Fits Your Best:
Mission Partner
For companies looking for year-round association
Designed to recognize an elite collection of companies who make a significant contribution and commitment to Special Olympics Nebraska through a variety of partnership opportunities, which may include event partnership, employee fundraising, consumer cause-marketing and valuable in-kind donations.
State Games Partner
For companies looking to tap into the core of the organization by affiliating themselves with the athletes and their competitions.
Designed to create a connection between your company and our nearly 5,000 athletes and 8,000 volunteers. You will have the opportunity to sponsor all seven State Games throughout the year, and build a new base of support with the thousands of athletes, volunteers and spectators who attend each tournament. Your company will gain access to a cause that's near and dear to your consumers' hearts, and send a message that your company goes above and beyond.
Torch Run/Polar Plunge
For companies interested n partnership with Special Olympics and law enforcement and its fundraising initiatives to serve the needs of the athletes.
Designed to create tremendous state-wide exposure for companies law enforcement officers join Special Olympics staff and athletes to raise more than $250,000 for Special Olympics Nebraska. The Law Enforcement Torch Run is the largest grassroots fund raising effort for Special Olympics, showcased by the Final Leg Run when officers escort the Flame of Hope™ to Summer Games, Special Olympics Nebraska's largest state sporting event.
One signature fundraising event for the Torch Run includes Polar Plunges, where brave supporters jump in icy waters during the winter at sites across the state. This is a great employee engagement opportunity for any company. In addition, the Torch Run also hosts many fund raisers year-round including motorcycle rides, tip-a-cop, rooftop sits and other fun outings.
Healthy Athletes
Designed for companies who are passionate about the health and well-being of our athletes and the community.
People with intellectual disabilities have a 40% higher risk that the general population for several preventable health conditions. Healthy Athletes screenings provide the athletes with free health screenings to aid in the detection of health problems before they become chronic. In addition to screenings, the Healthy Habits program provides the tools needed to help live a healthier and more active life.
Other Sponsorship Levels
Special Olympics Nebraska offers a variety of opportunities for corporations.
Athlete Leadership Program
Email estoll@sone.org to talk about your ideas for how to support our athletes.