Events
Polar Plunge
How to Create a Firstgiving Page
The instructions below will walk you through the process of creating an online giving page that you can email out to potential pledgers.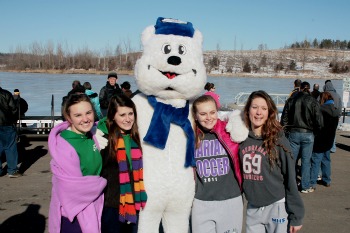 Go to http://www.firstgiving.com/sone
1. On the right-hand side of the screen select the plunge in which you'd like to participate.
2. Click on the green "Register" button
3. Select the number of Plungers and select "Register" (note, if you are registering more than one person, you will need a unique email address for each one)
4. For first time users, answer the registration questions and click NEXT. If you've used FirstGiving in previous years, log in with your email/password.
5. If you're a team member – search for and join your team. If you're creating a new team - select "Would you like to start a new team?" If you are plunging as an individual, select "I don't want to join a team." Select NEXT.
6. Set up your Page – select a photo, post a message and set a fundraising goal. If you'd like to make a donation to your personal page, you may do so here (this is not required). Select NEXT.
7. Select SUBMIT.
You've now registered and you have a fundraising page! Click on the link at the top to see your page.(You have a personal page for you, and there is also a page for your team.)
You will be able to edit your page at any time, check it for donations and you can email the site's URL to your friends and family if you wish so they can donate directly to your page.