Events
Polar Plunge
Info for the Savvy Plunger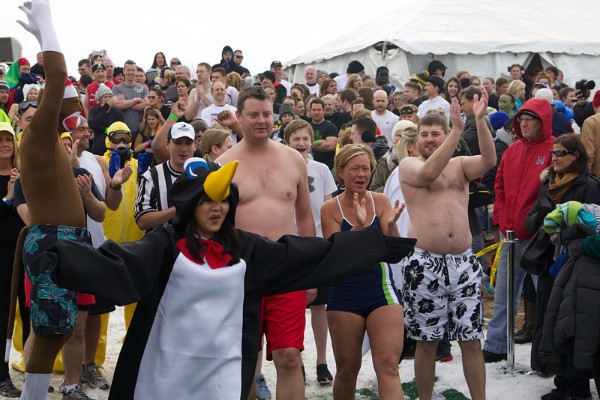 Anyone can plunge: kids, adults, teams, individuals, law enforcement, non-law enforcement, Special Olympics athletes, etc.
All of the money raised from the Polar Plunges stays in the state of Nebraska to benefit our Special Olympics athletes and programs.
Money is raised by plungers going out and soliciting pledges from friends, family, coworkers…whomever.
Doing a Polar Plunge is definitely a "bucket list" type of thing. However, we do have a lot of people that plunge year after year.
The Polar Plunge is a crazy event, so fun is encouraged. Many of the plungers form teams and plunge in costumes or come up with a team theme. Some costumes and themes that have won prizes at the plunges or impressed the crowd are: togas, blue man group, Gilligan's Island, bowling pins, penguins and Spongebob.
You can plunge as an individual or as a team. If you are plunging as a team, your whole team will enter the water at the same time. Teams entering the water can usually be as large as 12 people, but if you have more than 12 we will have your team plunge in waves.
While there are not any age restrictions and prizes are awarded to the oldest and youngest plungers, we do want you to be sensible about plunging. It is a very safe event, as we do have divers in the water, but it is an extremely cold event.
The Polar Plunge does not pose real danger. As long as you follow the rules and plunge safely, you will be fine. We encourage people to be aware of their surroundings, both in the water and outside the water, we do not allow diving and we stress that you wear tennis shoes or water shoes to plunge and be sure to have a dry towel or blanket to wrap up in once you get out of the water.
All plungers do sign a waiver before plunging and anyone under 18 years of age will need parental consent to plunge.
The plunge will happen quickly, people are only in the water for about a minute and then run immediately to a heated tent or indoor facility.
Check-in begins about an hour and a half before the plunge. Please be on site at least 15 minutes before the start time of the plunge.
You can register for the plunge online at www.firstgiving.com/sone. On this site you can create your own giving page that you can email out to friends and family to solicit pledges.
While we encourage the use of the online fundraising tool, you are more than welcome to collect pledges offline as well. Checks made out to Special Olympics Nebraska and cash are accepted at check-in the day of the plunge.
You must raise of minimum of $50 to plunge and incentive can be earned starting at $75 and all incentives are cumulative.
The post party will take place immediately following the plunge and will consist of food for the plungers, incentives earned at the $75 level will be given out and prizes will be awarded for costumes and fundraising.
The incentive items for the $250, $500, $1,000 & $3,000 levels will be redeemed by the plungers online a few days after the plunge. The items will be shipped directly to the plunger. Access codes for the online redemption will be given out at the post-plunge party.
Since this is a winter event, we typically do not postpone the plunge due to weather. We have had plenty of snow at plunges before, but have had to postpone due to extremely high wind.