About Us
History
40 Years of Inspiring Greatness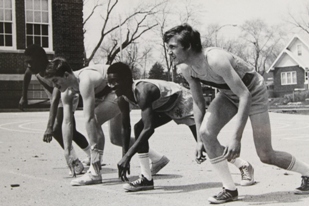 Special Olympics Nebraska's history began in 1970, with 250 athletes and a vision of inclusion and sportsmanship through competitive athletics for Nebraska's intellectually disabled population. In 1972, Special Olympics Nebraska became an official organization with 500 athletes.
Today, those few hundred athletes have grown to over 5,000 athletes and is growing rapidly. Special Olympics Nebraska has teams in over 110 communities throughout the state.
Over the decades, Special Olympics Nebraska has expanded our reach with new initiatives. In 2009, the Young Athletes Program was launched to focus on the special needs of intellectually disabled children and their peers ages 2 -7. Also 2009 saw the inauguration of Project Unify, which was implemented to active young people in schools to foster respect and advocacy for people with intellectual disabilities.
The Special Olympics National Games was hosted in Nebraska in 2010 with thousands of talented athletes from across the country competing. It was the largest sporting event of its kind ever held in Nebraska.
In 2012, Special Olympics Nebraska launched our latest initiative Healthy Habits, a program designed to improve the health and well being of our athletes on and off the field.
Over the 40 years of Special Olympics Nebraska's history, one aspect of our organization hasn't changed: the dedication of our volunteers, coaches, and donors. It is your support that will carry Special Olympics Nebraska to our 50th Anniversary celebration and beyond.
For more information about the history of Special Olympics visit the
Special Olympics International website.
40 Years of Special Olympics Nebraska in Photos