Get Involved
Become an Unified Partner
Become an Unified Partner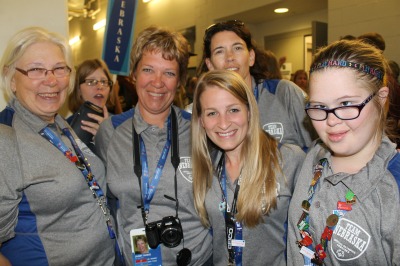 Sports are about having fun, promoting physical health and bringing people together. Special Olympics Unified Sports Teams do all of that – and shatter stereotypes about intellectual disabilities in the process. Unified Sports Partners (athletes without intellectual disabilities) play an invaluable role in the lives of our athletes – becoming teammates and friends with our athletes on and off the playing field. Whether you are a sports junkie, recreational enthusiast, or competitive athlete, there is no better way to combine a love of sports with the rewards of volunteer service than by becoming a Unified Sports Partner for Special Olympics Nebraska!
Unified Sports joins people with and without intellectual disabilities on the same team. Teams are formed with people of similar age and ability to make practices more fun and games more challenging and exciting for all.
Become a Special Olympics Nebraska Unified Sports Partner (an athlete without intellectual disabilities)
1. Complete and submit the Unified Partner Application. Download it here.
2. Complete the Protective Behaviors online quiz. Link here. 
3. Sign the Athlete Code of Conduct. Download it here. 
Send a copy of your Application and Code of Conduct to Mackenzie Ritter at mritter@sone.org or to:
Special Olympics Nebraska
c/o Mackenzie Ritter
9427 F Street
Omaha, NE 68127