Events
Polar Plunge
***SCOTTSBLUFF PLUNGERS: Due to inclement weather, the Panhandle Polar Plunge has been POSTPONED until next weekend, March 4th!
We hope that everyone can make it next weekend. However, if you are planning to plunge, but cannot March 4th, all fundraising incentive levels will still be honored.
One more week to raise more $$ for SONE! We will see you March 4th!!#BEBOLDGETCOLD ***
Break the Ice for Special Olympics Nebraska!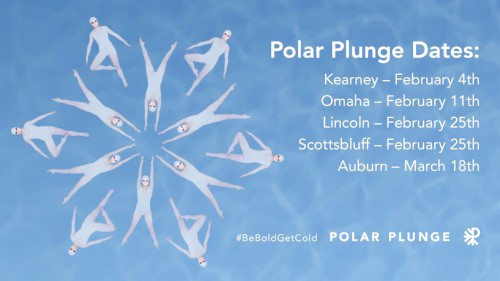 It's that time of year again where warm-hearted people take a very cold dip for a good cause. The Law Enforcement Torch Run for Special Olympics Nebraska is excited to announce our 2017 Polar Plunge season!
The Polar Plunge is an annual event that challenges participants to show support for Special Olympics Nebraska by plunging into a lake - in the dead of winter. Plungers are encouraged to form teams, dress in costume and share their experience by using the hashtag #BeBoldGetCold. Those brave enough to run into the icy waters raise money by collecting pledges from family and friends. Prizes are awarded for creativity and fundraising.
In the following pages, you'll find how to sign up, how to start fundraising and how to maximize your Plunge experience!
Still have questions? Reach out to Katie Kellar at kkellar@sone.org or 402.331.5545x17.