Events
Law Enforcement Torch Run Events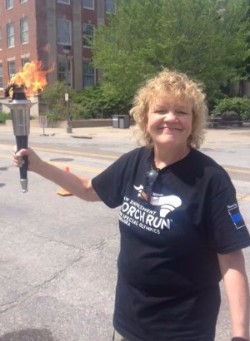 The Law Enforcement Torch Run is held annually throughout the state of Nebraska leading up to the Summer Games. This year's events run May 11-17, 2018.
Listed below are the details for the upcoming community Torch Run events across the state. If you are interested in taking part in one of these events, please reach out to the designated contact person. 
Click on the links to download the Runner Waiver form and T-Shirt Order form. 
**OMAHA ONLY** Please use designated Omaha only form.
Larger images of the t-shirts are at the bottom of the page.
---
The list of Torch Run Events will be updated as information on community runs comes in (last update: 4/2/18). For Torch Run questions, contact Katie Kellar at kkellar@sone.org.
2018 Torch Run Events
Date: May 10th, 5:30 p.m.
Location: HOLDREGE
Contact person: Sara Jo Leonard, sarajoleonard@yahoo.com 
Event:  A one mile run will start at the Phelps County Court House.  Runners will go north on East Ave to 14th Ave and end at North Park where a BBQ will be held for the participants and anyone who would like to attend.
Date: May 14th
Location: MINDEN
Contact Person: Todd Suchsland, Todd.Suchsland@nebraska.gov
Date: May 14th, 6:30 p.m.
Location: GRAND ISLAND
Contact person: Michelle Anderson, manderson@gipolice.org
Event: Running from Westridge on 13th street to the new Engleman and pick up athletes either there or at the Ressurection Church across the street. 
Date: May 15th
Location: SCOTTSBLUFF/GERING
Contact person: Jason Rogers, JRogers@gering.org or Chris Baer, Christopher.Baer@nebraska.gov
Date: May 15th, 5:00 p.m.       
Location: KEARNEY                                                                                                                                                                  
Contact Person: Rob Taillon, RTaillon@kearneygov.org       
Event: Run starts in the parking lot of Hellman, Main, Coslor, and Kathol at 3519 2nd Ave. Run ends at MONA where there will be a free-will barbecue.
Date: May 15th, 5:00 p.m.
Location: COLUMBUS 
Contact person: Kevin Stary, Kevin.Stary@nebraska.gov
Date: May 16th
Location: LINCOLN
Contact person: Char Estes, lpd596@CJIS.LINCOLN.NE.GOV
Date: May 16th, 6:00 p.m.
Location: BEATRICE
Contact person: Derrick Hosick, dhosick@beatrice.ne.gov
Date: May 16th
Location: SIDNEY
Contact Person: Keith Andrew, Keith.Andrew@sidneypd.org 
Date: May 17th, 6:00 p.m.
Location: OMAHA
Event: New this year: Omaha will host a Run/Walk. Runners/walkers will meet at meet at the Rasmussen Fitness and Sports Center on Creighton's campus and end at the Ryan Athletic Center/D.J. Sokol Arena at Creighton The run will be just over 3 miles.The walk will be 1 mile through Creighton's campus and kids under 12 walk for free. Runners/walkers may begin to pick up tshirts starting at 5:00pm. *OMAHA RUNNERS/WALKERS PLEASE USE DESIGNATED OMAHA TSHIRT ORDER FORM ONLY*
After the Run: The Special Olympics Nebraska Opening Ceremonies will be held at the DJ Sokol auditorium at 7:00 p.m.  All runners are asked to please come and run the torch into Opening Ceremonies.  It estimated that we will run in around 7:45 p.m.
Contact person: Alan Reyes, alan.reyes@cityofomaha.org
Date: TBD
Location: HAMILTON COUNTY
Contact person: Kirk Handrup, countysheriff@hamilton.net
Date: TBD
Location: MCCOOK
Contact person: Jackie Thelen, thelenjackie@yahoo.com
Date: TBD
Location: NEBRASKA STATE PATROL TRAINING ACADEMY
Date: TBD
Location: OGALLALA
Contact Person: Kelly Crymble, kcrymble@outlook.com
Date: TBD
Location: NORTH PLATTE
Contact Person: TBD
Date: TBD
Location: CHADRON
Contact person: Tim Flick, Timothy.Flick@nebraska.gov
Date: TBD
Location: YORK
Contact person: Devin Davis, Devin.Davis@nebraska.gov