Events
Law Enforcement Torch Run Events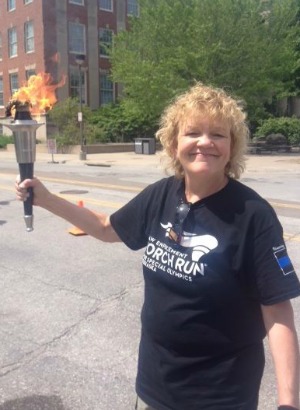 The Law Enforcement Torch Run is held annually throughout the state of Nebraska leading up to the Summer Games. This year's events run May 7-19, 2016.
Check back for the most current Torch Run information as it becomes available. For Torch Run questions, contact Katie Kellar at kkellar@sone.org.
---
2016 Torch Run Events
Date: May 7th
Location: GRAND ISLAND
Event: Runners will meet at Westridge Middle School and run to Engleman where to meet up with the Special Olympics athletes.  The run will end at George Park for a potluck lunch at the park. 
Contact person: Michelle Anderson, manderson@gipolice.org
Date: May 11th
Location: HAMILTON COUNTY
Contact person: Kirk Handrup, countysheriff@hamilton.net
Date: May 12th, 5:00 p.m.
Location: MINDEN
Event: Run starts at Browns Market and will end at the town square with a BBQ which runs from 4-7pm
Contact Person: Trooper Todd Suchsland, Todd.Suchsland@nebraska.gov
Date: May 13th, 5:00 p.m.
Location: KEARNEY
Event:  Run starts at 39/A in the parking lot of Hellman, Main, Coslor and Kathol. The run will head south to 31st onto Central and then end in the Mona parking lot. Nebraskaland will provide the BBQ meal at the end.
Contact Person: Rob Taillon, RTaillon@kearneygov.org
Date: May 14th
Location: SCOTTSBLUFF/GERING
Event: The run will start at the Scottsbluff Monument and end at Frank Park in Scottsbluff. 
Contact person: Jason Rogers, JRogers@gering.org or Chris Baer, Christopher.Baer@nebraska.gov 
Date: May 15, 1:30pm
Location: OGALLALA
Event:  Run will take place at North Park and end with a picnic
Contact person: Kelly Crymble, kcrymble@outlook.com
Date: May 16th
Location: AUBURN
Contact person: Matt Kadavy, mkadavy@nemahasheriff.com or Dan White, dwhite@nemahasheriff.com
Date: May 16th, 6:00 p.m.
Location: BEATRICE
Contact person: Derrick Hosick, dhosick@beatrice.ne.gov
Date: May 17th, 4:00 p.m.
Location: NORTH PLATTE
Event: Start at the Maxwell School parking lot at 4:00 and run along HWY 30 to Cody Park for picnic with athletes. 
Contact Person: Robert Veal, Robert.Veal@nebraska.gov
Date: May 17th, 12:00 p.m.
Location: LINCOLN
Event: Run begins at 12 p.m. at 16th and W and ends with a ceremony on the east steps of the Hall of Justice.
Contact person: Char Estes, lpd596@CJIS.LINCOLN.NE.GOV
Date: May 18th, 10:00 a.m.
Location: SIDNEY
Event: The run starts on east interchange and will end at the Fair Grounds.  The run length is about 4.3 miles
Contact Person: Keith Andrew, Keith.Andrew@sidneypd.org 
Date: May 19th, 6:00 p.m.
Location: OMAHA
Event: Runners will meet at meet at the Rasmussen Fitness and Sports Center on Creighton's campus and end at the Ryan Athletic Center/D.J. Sokol Arena at Creighton The run will be just over 3 miles.  
After the Run: The Special Olympics Nebraska Opening Ceremonies will be held at the DJ Sokol auditorium at 7:00 p.m.  All runners are asked to please come and run the torch into Opening Ceremonies.  It estimated that we will run in around 7:45 p.m.
Contact person: Alan Reyes, alan.reyes@cityofomaha.org
---