Events
Breakfast of Champions 2017
Breakfast of Champions 2017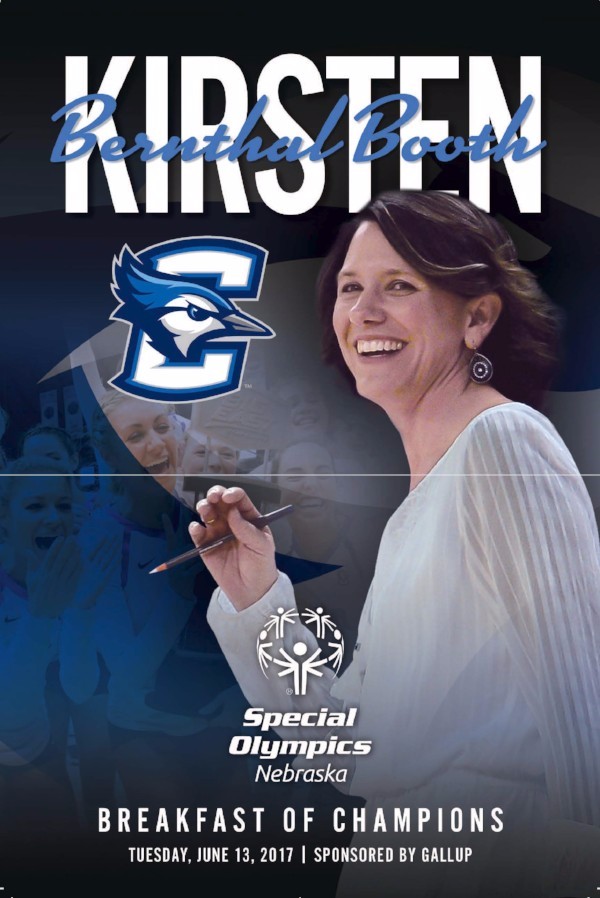 Special Olympics Nebraska along with Jeff and Molly Slobotski, are pleased to announce this year's Breakfast of Champions Speaker is Head Coach of Creighton Volleyball, Kristen Bernthal Booth!
Special Olympics Nebraska will present the Champion of Greatness Award Gallup and Special Olympics athlete Rachel Mulligan will speak.
Please reserve your table by June 6, 2017.
Tuesday, June 13, 2017 7:30 a.m.
Embassy Suites La Vista
-------------------------
Keynote Speaker: Kristen Bernthal Booth
HEAD COACH CREIGHTON VOLLEYBALL
The winningest coach in program history, Kristen Bernthal Booth continues to lead the Creighton Volleyball team to unprecedented heights. She's led the program to a spot in the NCAA Tournament in five straight seasons, including a 2015 Sweet 16 Bid and an appearance in the 2016 Elite Eight. Booth is a three-time National Coach of the Year, three-time Conference Coach of the Year and a two-time Regional Coach of the Year. Since inheriting a 3-23 team, Booth has led CU to eight seasons of 20+ wins and a 291 victories in 14 seasons. Booth's teams are equally as proficient off the court while staying active in the community and excelling in the classroom.
Table Levels
Gold: $5,000 (Table of 10 and autographed volleyball - $4,800 Tax Deductible)
Silver: $2,500 (Table of 10 and autographed photo - $2,322 Tax Deductible)
Bronze: $1,500 (Table of 10 - $1,325 Tax Deductible)
Single Tickets: $150 ($142.50 Tax Deductible)
Please RSVP by June 6, 2017
Should you have any questions about your reservation or the event, please email agilreath@sone.org or call 402.331.5545 ext. 13.